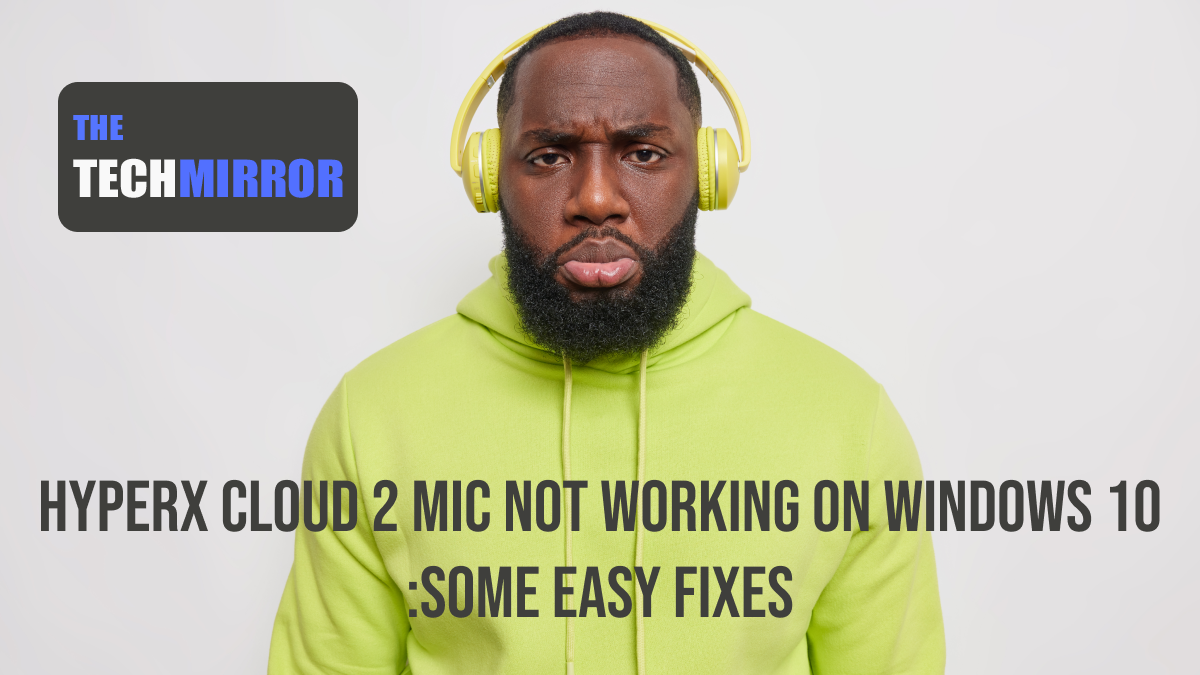 Despite the popularity of HyperX Cloud as a preferred gaming headset brand and its appealing features, many users often experienced a problem of the headset stopped working as and when they upgrade their operating system to Windows 10. If you are also the one who is facing the issue of HyperX Cloud 2 Mic Not Working on Windows 10, this article is a must read for you.
This guide will help you understand the reasons for HyperX Cloud 2 Mic not functioning, and the solutions to fix this issue as well. But before getting into that, let's have an overview about HyperX Cloud.
HyperX Cloud: The Perfect Gaming Headset
The HyperX Cloud is designed in a way to be a cozy gaming headset with astonishing sound. Its unmatchable features including signature memory foam, the premium leatherette, clamping force, and weight distribution are crafted to give utmost comfort to users all the way through long gaming sessions. To no surprise it ranks among the most chosen gaming headset for a major chunk of gamers. Apart from that movie lovers also prefer these headsets to watch their favorite movies or web shows on laptop or PC. Following are the features that make HyperX Cloud stand out from its market opponents:
HyperX Signature Memory Foam and Premium Leatherette
HyperX 7.1 Surround Sound1
Built-in mic monitoring – available on Cloud II Wireless
53mm Drivers
Detachable Noise-cancelling Microphone
Durable aluminum frame
Multi-platform compatibility
While there are numerous factors that results in the all popularity of the headset, there could also be a few flaws as well. One of such shortcomings is the microphone of this particular headphone stop working on system update. However there are certain obvious reasons for this and it may take place owing to a connection issue or probably something going wrong with your audio driver or so.
Well, let's understand the reasons why the mic has stopped working by reading through under mentioned section.
Reasons Why The HyperX Cloud Mic Is Not Working
The first and foremost reason why the mic of your headset isn't working could be the error in HyperX Cloud II drivers. As a solution to this, you can simply try to uninstall and reinstall the drivers back again to fix the issue.
On the other hand this problem of microphone of HyperX Cloud not working may be because of a defective or outdated audio driver on your computer. In addition to this, you are likely to face this issue if your USB port is not in function or the headset isn't appropriately connected to the device. You can identify these flaws by observation and take corrective actions to restore proper working of HyperX Cloud headset.
Having said the reasons behind the problem; HyperX Cloud 2 microphones not working, you can consider some useful methods through which you can fix this problem. Here are the helpful fixes that will resolve this issue.
Fix 1: Update HyperX Cloud 2 Mic Driver and Windows 10 Drivers
If you are the fortunate one then merely a simple update relating to the headset driver or the audio driver of your computer will resolve the problem. This can be done in two ways; either you can update a driver Manually or you can even go for an Automatic update. 
To manually update the drivers on your computer, you are required to perform following steps.
Launch Run command by pressing Windows+R.
Type devmgmt.msc and press the enter key.
Then find and select "Sound, video and game controllers" option under the Device Manager. 
Now here you will get to see your audio driver named such as "HyperX Cloud 2 mic", make a right-click and you will see a window with an option called Update.
Click on Update, to start updating the particular driver.
Once the update is done successfully, restart your PC to reflect the changes that you just made.
To automatically update the drivers on your computer, you are required to perform following steps.
You can easily get a lot of applications in the open market to help you update every single driver on your device. But, here are two best recommend applications, named "Drivereasy" and "DriverBooster" which can serve your purpose. 
These applications provide you a full list of drivers that need to be updated. From among that list you can choose a single driver to update or even all the drivers at one instance. By doing so, you can easily resolve the issue with your HyperX cloud II Mic via auto update of device drivers.
If this fix doesn't work, you can go on to try the next one listed below.
Fix 2: Set The HyperX Cloud 2 Microphone As Default Device
On a few occasions you might unintentionally muted or disabled the headsets or sometimes you just not remember to set it as the default device for the audio output. If that is the root for the HyperX Cloud mic not working you need to take the following steps to set your HyperX Cloud 2 mic as your default microphone.
Find the speaker icon at the bottom of your taskbar and make a right-click on it.
From the optioned listed here, select "Recording device".
In the newly opened window right-click on the blank space and then click on the option Show Disabled Devices. 
Select the HyperX Cloud II headset and click on "Enable".
Select the HyperX Cloud II headset once more and now click on "Set as Default Device".
Lastly, click on "apply" followed by "ok" to exit from that window.
Fix 3: Check Your Cable/USB Connections 
Another reason as of why the mic on your HyperX Cloud II headset won't function as it should be is that the headset might be muted or not connected correctly. It is very likely that people often forget to un-mute their microphones and believes that there is some problem with the mic. 
Thus you must check for the connection of your headset beforehand. If you are having a USB switch, ensure that you haven't pushed the mute button on. Beside that if in case USB ports gets loosen up you can try to plug it in another USB ports to fix the said issue of headset mic not working.
Fix 4: Run Audio Troubleshooter on Windows 10 
While working on Windows 10 if you experience any sort of audio-related problem then in that case you should be trying the troubleshooter for the audio device to get to the root cause. Most often this will fix the issue of the Hyperx Cloud II mic not working issue, you can use troubleshooter by performing the steps given below.
Open Windows and go to settings by selecting a gear icon.
Under the setting window click on "Update and Security".
Here you will find an option called "troubleshooter".
Click on Playing Audio, and then Run the troubleshooter.
That's all..!! On successfully carrying out any of the above methods the HyperX Cloud II mic not working issue can be resolved.