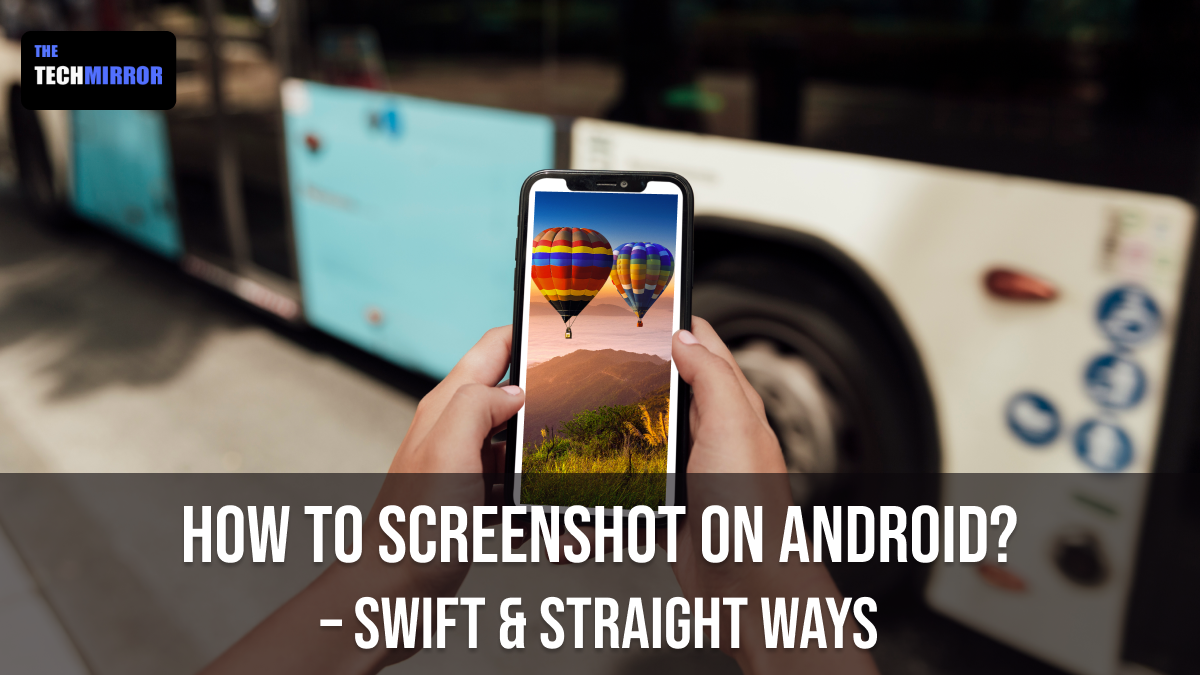 Don't have an idea about how to screenshot on Android? If you are wondering and looking for some swift and straight ways to take a screenshot on Android, here's a must read for you.
No matter which brand of phone you own, we have got you covered with every fancy trick included by most of the device manufacturers. This blog article is exclusively compiled to help you in this matter and let you know everything about how to take a screenshot on Android.
So, without any further delay, let's figure out the best and easiest way to capture screenshots on your Android phone.
Taking screenshot on Android:
As a matter of fact, Android phones from each and every manufacture differ in lot many ways and so does the way in which you are able to snap the screen on them. The method of taking screenshots mostly depends on the technology and operating system being used by Manufacturers, and there is a particular default shortcut relative to it.
Capturing your screen or taking a screenshot is not that simple like pressing a single button. As there are a lot of Android phones out in the world, it can be really a testing experience to find get it right away especially when you're trying to capture your phone's screen. Most of the users often finish with nearly powering off their phone while taking a screenshot.
If you too find it difficult to capture your screen, here's how to take a screenshot on Android with ease.
How to take screenshot on Android?
You can easily take a picture (screenshot) of your phone's screen. Not only that, once you captured the screen; you can even perform other functions on it like – view, edit, share etc. However, taking a screenshot largely varies depending on your phone. Below are the methods which can be quite handy when trying to capture your phone's screen:
Best methods to capture screenshot on Android device
Method#1: Use the Android Screenshot Shortcut
Almost all Android phone or tablet let you to take a screenshot using this method. All you need to do is quickly pressing the power and volume down buttons together. Hold them down simultaneously for a couple of seconds. That's it, when you release the buttons, you will get to hear a camera shutter sound. Also your screen will flash at the same time and you will see a thumbnail of your screenshot appearing on your screen. 
Method#2: Use the Quick Settings Menu
Just to ease the process a bit, more than a few manufacturers have introduced direct feature and provide the users with a screenshot button. This can be found in Android's Quick Settings menu.
For the purpose of taking a screenshot, you are required to access and tap it from the menu. Just swipe/pull down the notification panel from the top of your phone's screen to open/reach quick settings. Here, you will get to see an option called as Screenshot, Screen Capture or something like that. Now tap on the option and you are done. The screenshot is taken successfully and image is saved on your phone.
Note: If you find the option on your quick menu, it is likely to be hidden. In such case, tap on the pencil icon located at the lower left-hand corner of the Quick Settings menu and make changes as to which shortcut buttons you would like to see in the menu there on.
Method#3: Use Gestures
The next easy method to screenshot on Android is using Gestures. These days, most of the Android devices allow you to use gestures to take screenshots, instead of pressing power-volume down buttons.
You can simple capture your screen by swiping it down with three fingers. The process is as easy as it could ever be. To begin with you are required to place three fingers (somewhat spread out) on the screen you want to capture. Now, gently swipe down – all the three fingers, at the same time. Having that done you will see a screenshot captured. 
Method#4: Use Voice (Google Assistant)
Next method on our list is using voice service, i.e.; you can ask Google Assistant to take a screenshot for you. This is how it works on the supported phones:
To start with, you must go to the screen that you want to capture. Now just say, "OK Google, take a screenshot," and it is ready to go. Google Assistant will oblige you by taking a snap and saving it.
Method#5: Use Third-Party Apps
The last method to take a screenshot on Android is using third-party screenshot apps. Though you will find a number of tools (Screenshot Easy, Super Screenshot) in this regard, there is always an element of risk when referring to some external apps or websites. Hence, we strongly recommend you not to use such tools.
Note: Some of the methods mentioned above work only on Android 11 or higher. If none of these methods work well for you, then you must seek help from your phone's manufacturer by contacting them.
Find, edit & share screenshots on your Android phone
Once you have taken a screenshot, it gets saved on your phone. You can then find, edit and share it accordingly. To find the screenshot you can go to the default location i.e.; the Photos app. When you have an older Android version, you don't have the Photos app; instead you can locate the screenshot in your phone's Gallery app. Here's how to find, edit and share your screenshot:
To begin, open the Gallery app on your phone
Tap on Album and look for the folder named 'Screenshots'.
Now, here you can find the screenshot (by default the recently taken screenshot will appear at the top)
To edit a particular screenshot, you need to tap on Edit.
To share a screenshot, you are required to tap on Share.
That's all. You have just learned about how to take screenshot on Android.
Read Also:
Android Apps Crashing Repeatedly?? Find Out Reasons & Remedies Here…
How To Clear Cache On Android? – Learn Here…