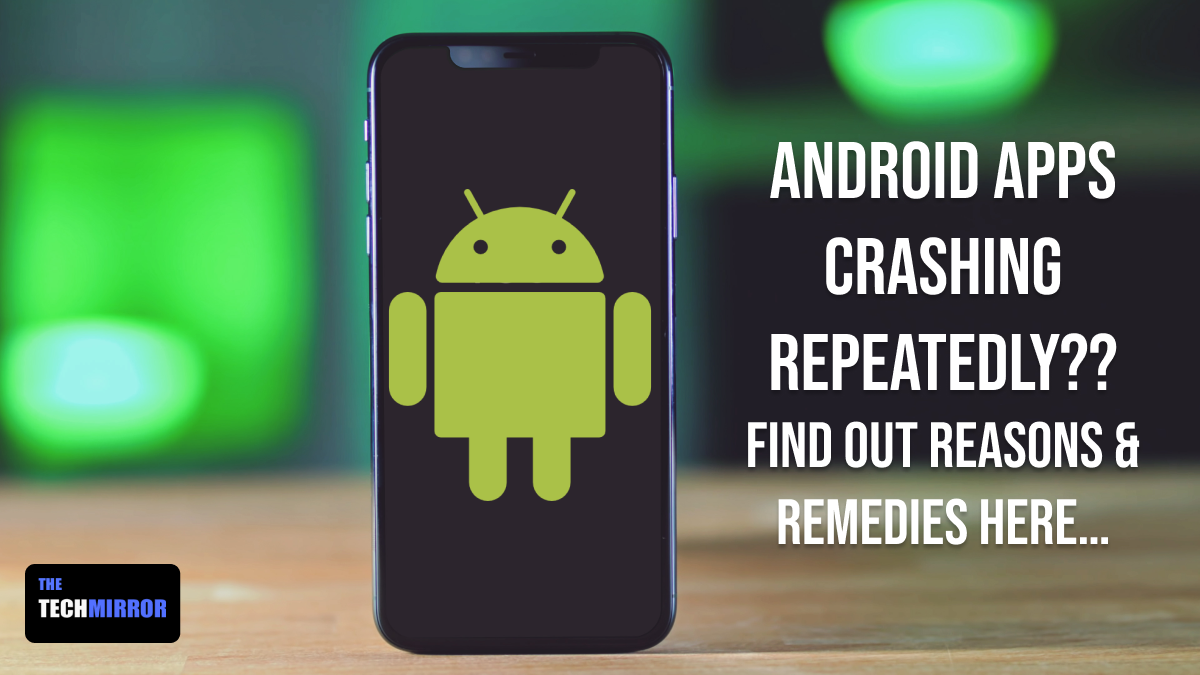 The world of Android is quite vast as well as diverse in terms of both hardware and software. This makes it quite complex and challenging for app developers to come up with a well-fitted app. Having that said, most of the Android users often experience one or the other problems pertaining to apps installed on their device, a common problem being Android apps crashing.  If you are among the same group of users and wonder, why do Android apps keep crashing, and what to do when it happens?
Well, there's nothing to worry much about Android apps crashing repeatedly as we are here to help you in this regard. Just read through this blog article to find answer for your queries related to the reasons and remedies to this widespread issue. So let's get started to learn more as to why Android apps keep crashing or freezing and how to fix them.
Why Android Apps Keep Crashing?
Almost each and every Android user hat one point or other might have experienced or encountered with this annoying situation of Android app crashing over and over again. No matter it be an older tried and trusted version or just a fresh version with updates, any given app can crash for certain reasons.
These reasons may range long and wide, particularly considering the extensive assortment of chipsets, custom skins, and screen resolutions available for Android smartphones.
We have enlisted a few of the predominant causes/reasons behind Android apps crashing in the next section provided under. Just check it out to have a better understanding as why this thing happens on your Android phone.
Causes/Reasons Of Apps Crashing On Android
Usually, users believe that apps crash for the reason that there's a bug in the software or it happens due to some technical glitch in hardware. However, the truth is that are many reasons behind an app keep crashing on Android. It could be because of low memory or storage on your device. May be it occur as a result of some incompatibility or a poor quality of chipset. Apps are also likely to crash when they are not coded properly.
Here's a list of a few more common causes/ reasons behind apps keep crashing on your Android device:
Poor quality apps or simply bad coding – the app is likely to lack the appropriate design or development.
Insufficient storage space or poor memory management – the app may require more space or system memory to run on your device.
App and device incompatibility – the app may not be able to support your version of Android.
Permissions and device access – the app may require some addition permission to access your device.
Corrupted App or software installation – the installed version of the app on your device might be corrupted or out of date.
Network and Internet Issues – the app needs an improved network connection than the one you are currently using.
Having understood the reasons, let's now move to learn about the remedial actions needed to get rid of this problem.
What To Do When Apps Keep Crashing?
Android apps keep crashing on your device is not an unusual occurrence, and can be easily addressed. When you encounter with such event, there are more than a few ways by which you can troubleshoot the problem. You can either restart your Android device or force-stop the app that is resulting in the problem. Moreover you can try to fix the problem, by ensuring that your device has enough memory or free storage space. Also check and verify that you are getting good signal strength for your WiFi/internet connection.
You can simply get rid of this problem situation by practicing, one or more of the fixes mentioned here under. Learn the remedial actions given below and try them to stop Android apps crashing problem on your device.
Remedies To Android Apps Crashing
Following are the remedial actions you can undertake to fix an Android app that keeps on crashing.
1. Restart/Reboot your device
The first and foremost trouble-shooting method you can try is to simply restart/reboot your Android device. This will take care or some minor glitches and also clears the memory which may help you fix the said issue.
To restart the device, just press and hold the power button and then tap on restart. If your phone don't have the option to restart it, all you need to do is power off and on back again to restart the phone manually.
2. Force-stop the app
Another easy method is to force stop the app which is crashing and then open it to check if the problem is fixed.
To force-stop the app, perform following steps:
Go to Settings on your device
Here select Apps, then locate the app you want to force stop and tap it.
Finally, tap on 'Force stop'.
That's it. Now launch the app again and check if it works well or not.
3. Check app permissions
As the app crashing problem could be due to app permissions. If you don't grant the app all the requested permissions when it asks for it, then there are chances that the app can refuse to function and keep crashing.
In such situation, you need to have a check on app permissions and allow the ones requested by the app. Here's how to do so:
Go to Settings > Apps > Select the app. > Tap on 'Permissions' to allow the access which you haven't granted before.
4. Free up memory/storage space
As mentioned above, apps on Android might keep on crashing due to insufficient storage space. To fix the problem you need to make sure that there's adequate memory available on your phone. To free up the space you can remove or delete or uninstall unwanted files and apps from your device. For doing so here's the path you need to take: Go to Settings > Apps > Locate and uninstall the unwanted apps and games.
5. Check your internet connection
When you don't have a proper internet bandwidth some apps can crash on your device. To avoid such happenings, ensure to turn on Wi-Fi on your Android and try to work with a strong internet connection instead of your cellular internet network.
6. Keep your apps updated
Keep checking for the recent updates available for the app and get them installed on your device. As updates may help you to get rid of bugs or other glitches and thereby let you to fix app crashing issues as well. So, it's quite a good practice to keep the most recent version of the app update with all the latest updates.
7. Reinstall the app
If updating the app doesn't help your cause, it's better to uninstall the app from your device. Then go to Play Store, search for the app to download it. Getting it installed back again on your device may resolve the crashing problem.
8 . Clear app data
One proven remedial action is to clear the app data. This method generally works for most apps and can be performed using the steps provided as under:
Go to Settings on your device
Thereafter tap on Apps
Now select the app which is crashing
Lastly, tap on 'Clear data' or 'Clear storage'.
This will remove all the data saved in the app and let you fix Android app keep crashing issue.
9. Clear cache
Another remedial action is to clear cached data. Doing so could largely improve the performance of your phone as well as the app causing trouble for you. To clear app cache, you are required to follow these instructions:
Go to Settings > Storage > Tap 'Cached data'. Tap OK.
10. Factory reset
Last but not least, when none of the above methods work, you can try to factory reset your device. Before resetting your device, you must make sure to have a back up of data stored on your phone. Once you are through with it, perform the factory reset using these steps:
Go to Settings on your device
Now select About phone
Finally, tap on 'Backup and Reset'
That's it. You have just successfully understood the reasons behind Android apps crashing and also learned about remedial actions to be taken for fixing the said problem.