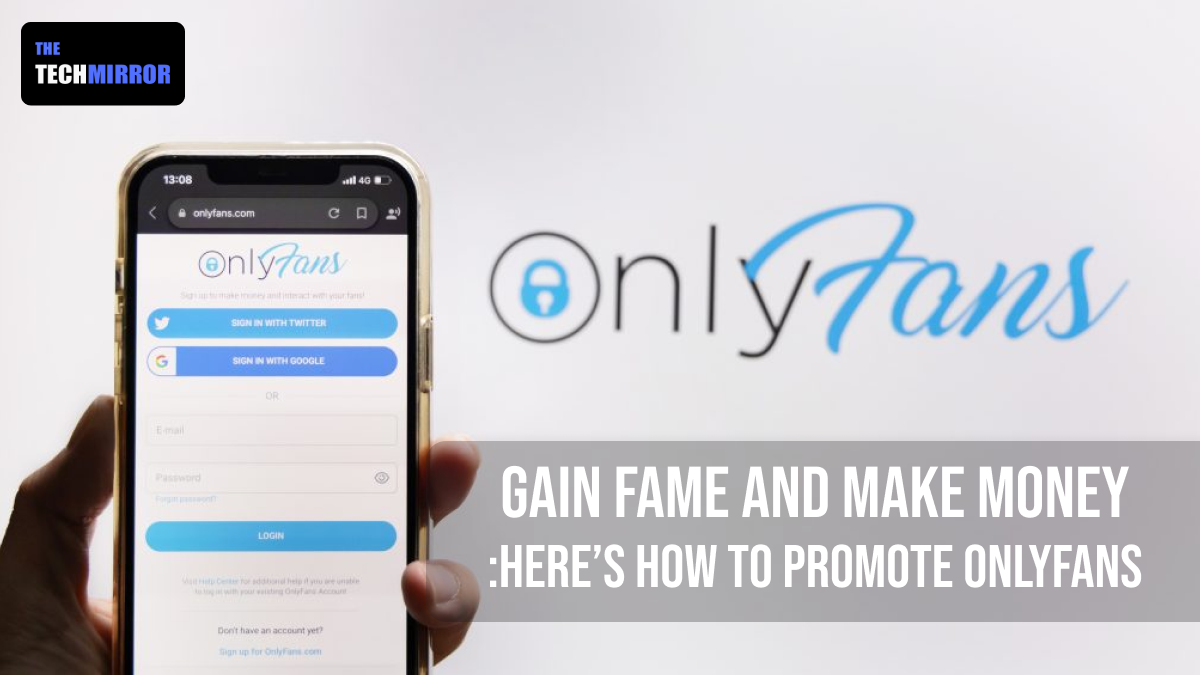 Launched back in 2016, OnlyFans provides content creators with a great platform to gain fame and make money. Content creators can share exclusive content on their OnlyFans account and earn from users who subscribe to them. Subscribers aka fans pay for subscription on monthly basis as well as pay-per-view basis. If you're getting started with a fans account but have no clue on how to promote OnlyFans? Well, worry not because you've landed to the right place. This handy guide will help you grow your popularity, profile visits and maybe earn you some loyal subscribers.
Where you can promote OnlyFans?
There are plenty of methods that can be used to gain subscribers for your account. In this guide, we will discuss about some of them.
#1 Use Social Media:
We are all aware of power of social media. Almost everyone around us is active on at least 2 or 3 social media platforms. You can take great advantage of these networks but the only thing that might bother you is, you may also accidently interact with one of your close relatives or friends. If you want to keep things private, you should create another account using a stage/pet name (just don't use your personal account to promote OnlyFans).
Promoting OnlyFans on Facebook:
Facebook's annual MAUs reveal that it is being used by over 2.9 billion users every month. FB could be a great medium to convince more people to visit your OnlyFans profile. You can post in groups, share on timeline and even create pages to promote your profile. But, you need to be very careful when you're posting anything related to your OnlyFans account. Yeah it is ok to promote your fans account on FB but a naked photo or steamy text might result in ban of your account.
Promoting OnlyFans using Instagram:
Instagram is first choice of today's teenagers. They're highly active on IG sharing reels, memes or posting their party photographs or videos. You can create a profile on Instagram and add your OnlyFans link to the bio of your Instagram page and get your followers to visit your page or subscribe you. But, here also you can't share an adult post or write a caption that is very s3xual.
OnlyFans promotion on Reddit:
Reddit is another great platform that allows NSFW content. You can find related subreddits to share your content and promote your page. You can also contact different people on reddit and can also create your own subreddit to promote your exclusive content and get more people to visit your profile or get subscriptions.
Promote your OnlyFans on Twitter:
Twitter could be one of the great social media platforms to promote your account. It's a wonderful micro blogging platform that allows you to share adult content too. If you're good at explaining your content or page in summary, you can go ahead with twitter and try to get some followers to your page.
Snapchat for promotion of OnlyFans:
There are many people who already sell premium pictures or videos on Snapchat. If you're one of them it means you already have an audience that could subscribe to you on OnlyFans. If you don't have such followers, you can connect with different people on Snapchat and maybe you can find a niche audience who may show interest in subscribing to your exclusive content.
Apart from these, one can also use YouTube, TikTok, kik to promote their OnlyFans account.
#2 Use Online Communities:
Online communities like P#rnHub community or other such forums could also help you gain more followers for your OnlyFans account. P#rnHub is one of the most popular ad#lt video sharing platforms where you can upload samples of your content. So, people can check what you've to offer and subscribe to your fans account.
#3 Shoutouts/Cross Promotions:
One another method to promote your OnlyFans is, cross promotions or shoutouts. You can ask other OnlyFans creators to give you Shoutouts. But simply spamming their inbox with please promote my page won't ever work.
Like first you'll have to create a good profile and share links of your content to them. Stay in touch with them and maybe if they like your content they will give you a shoutout.
#4 Cam/Chat sites:
You can promote your OnlyFans on adult cam sites like Chaturbet or StripCash or other chatting websites like Omegle. These platforms allow you to live broadcast and connect with people from all around the globe. Plus, you can find multiple cam sites which also allow you to sell your content on them. This way you can make extra bucks for yourself.
#5 Creating a Webpage or Blog:
You can also create a portfolio website or blog to promote your OnlyFans. An attractive portfolio landing page along with some of your pictures (demo content) and information about you or your OnlyFans content may also help you get more subscribers. A simple static landing page could drive good results. Also a blog where you can share your experiences, daily routine or beauty/workout or any kind of tips may also help you connect more with your followers.
We can help you create a Webpage or blog in this regard at budgeted price. Feel free to reach us at namaste@anahcra.in or follow our work on dribble by visiting https://dribbble.com/anahcrainfotech
So, these are some of the methods that can be used to promote your OnlyFans account.
Read Also:
Disclose it or Hide it: Does OnlyFans Show Your Name?
Is there an OnlyFans app in the making? Find out here…
How to Find Someone on OnlyFans: Smart Hacks that Help