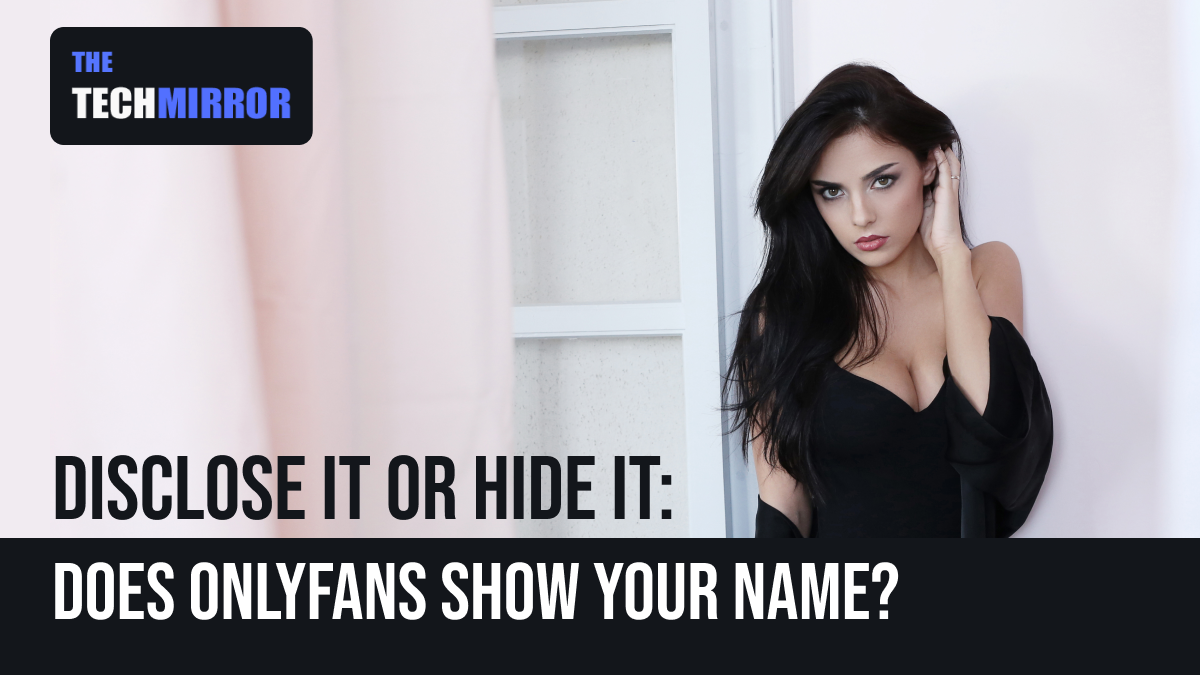 OnlyFans is progressively rushing forward both in terms of volume (number of users) and variety (type of content). It is committed at providing users with a safe, secure and private community wherein they can create and share content at will. If you are new on OnlyFans, you might be worried about a lot of things and have quite a few questions in your mind like, does OnlyFans show your name? Or when you subscribe to someone on OnlyFans, can they see your or creators get notified on account of it?
Here's an article for you that will put an end to all such queries and tell you everything about whether OnlyFans creators can see your name if you follows them, as well as what other sort of information does Onlyfans show to creators and so on.
Does OnlyFans show your name?
As a normal practice, OnlyFans show your username as well as display name on the platform, but not your real name except if you have not added your real name to your profile.
To understand it more clearly, you must note that your username on OnlyFans is nothing but a randomly generated number (For example u1233210). Unless you change and replace your username or display name with your real name, no one will come to know your real name on OnlyFans.
Can OnlyFans creators see who follows them?
Yes, as soon as you follow someone on OnlyFans, they will come to know about it. When you start following a creator or subscribe to a creator, they will get a notification via a pop-up message which says; "x subscribed to your profile!" (Here x happens to be your username).
As a result OnlyFans creators can see who follows them but only your username will be shown to them via the notification. For instance, if your username is u1233210 and you haven't changed it, then the creator will get a notification as "u1233210 subscribed to your profile!" They will receive this notification on the platform as a pop-up message and via the bell icon. The creator has the option of closing the pop-up notification by clicking on "X" icon. However, it will continue to be displayed on their notification list.
Note: Creators will only see your profile in event when you follow or subscribe to them. In case where you did not follow or subscribe, they will never be in a position to see your profile except they have the link to it.
What sort of information can be seen by OnlyFans creators?
As a matter of fact OnlyFans creators can see your profile informationwhich includes your username, display name, profile picture, as well as bio. But it is possible only if you have followed or subscribed to them. And if you have not done so, then there is no means by which they can see your profile information.
In addition to that it is to be noted that creators in any case have no access to your credit card information. As per section 7b of OnlyFan's privacy policy, no creator will be able to see your credit card information. Therefore, creators can only see the basic information which is displayed on your profile.
However, if your OnlyFans profile is set as public, then all your profile information will be visible to anyone who visits it. Say if you have added your location, website detail, Amazon Wishlist and so on to your profile, then anyone will get to see it when they visit on your profile. For this reason, you must ensure to edit your profile time and time again and remove such information which you don't want others to take note of.
Note: OnlyFans retain no payment details of users but it will still appear in transactions on your bank statement.
Is OnlyFans anonymous for creators?
By default, OnlyFans is anonymous for creators considering its privacy policy. There exists no search function on the website and Fans can only access someone OnlyFans' profile if they have a link of the same.
Usually OnlyFans is anonymous for creators. Besides, the information on a creator's profile (e.g. profile picture, display name, username, and bio) is publicly displayed. Not just that, even a creator's posts get visible to Fan only after subscribing to them.
It depends on OnlyFans creators how they want to promote their OnlyFans account. Either they can choose to promote it on their main social media handles or they can go other way by opting for a fake account or a website if they wish to be anonymous.
Conclusion
In nutshell, creators will only be able to see the basic information being displayed on your OnlyFans profile. And confidential information such as your credit card information will not be shown to them. Hope you find this article helpful. Do share it with your friends and help them to get the answer of the FAQ does Onlyfans show your name.
Read Also:
How to Find Someone on OnlyFans: Smart Hacks that Help
Gain Fame and Make Money: Here's How to Promote OnlyFans
How to See How Many Subscribers Someone Has on Onlyfans?