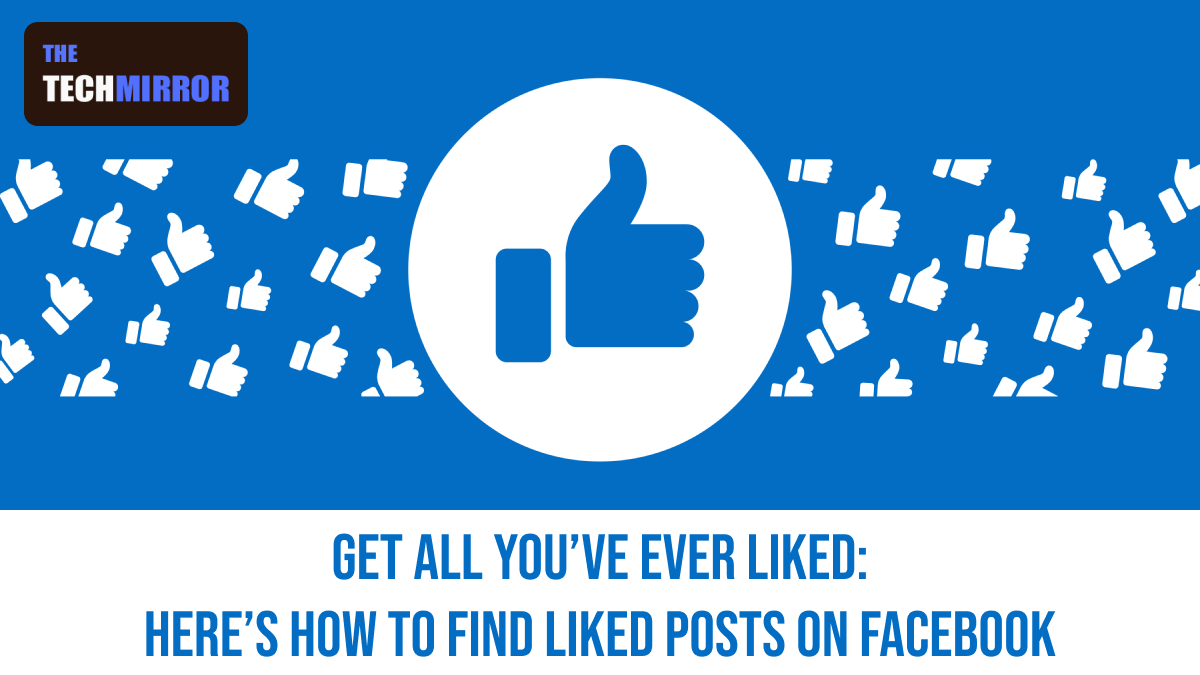 Facebook is amongst the most widely used social platform wherein voluminous content being uploaded each day. If you are an ardent Facebook user, you might like hundreds and thousands of photos, videos, news update, web pages, and other stuff a week or month. Thus it is quite obvious for you to lose track of previous liked posts on Facebook. So, if you are looking for a way out to find liked posts on Facebook? Here's a complete referral to get the job done. This blog article will cover three alternative methods to find liked posts using Facebook Main App, Lite App (iPhone or Android) as well as the Facebook desktop mode.
Let's have a quick tour to explore more about these methods.
Finding Previously Liked Posts on Facebook:
Finding It can be an incredibly tedious and tiresome task to find a particular photo, video, or other post of interest which you have liked in past. Though the easiest way to make accessible any content in all probability is to like that specific post; still finding liked posts from among the vast reservoir of your activity log can be difficult.
In order to get a list of all the previously liked posts, the simplest way is to head the Activity Log and thereby applying filter on the "Likes and reaction" option. The task of finding liked posts on Facebook can be accomplished using Facebook Mobile App and Facebook Desktop Mode. A method for each is discussed below.
Methods to Find Liked Facebook Posts: 
No matter if you want to "unlike" a previous "like," or put out of sight a currently liked Facebook page from your profile, there's always a possibility for it. You can get these tasks done by finding old liked posts using any of the underlying methods. So let's learn more about them including the stepwise procedure pertain to each one.
Finding Liked Posts via Facebook Main App
The first and foremost way to find old liked Facebook posts is using Facebook Main App. To do so you are required to perform the steps given below:
Launch the Facebook Main App, and once you landed on the Home Page, head to your profile by tapping on the profile pic
Next open Settings by click on the 3 horizontal dots underneath your profile pic
Scroll down to find the "Activity Log" option (bullet list icon) from the available options and select it.
On the next screen tap on "Filters"
Then tap on "Categories"
Further go on to find "Interactions" from the list of options available on new screen. Tapping it will grant you an access to the likes, reactions and comments and so on.
Lastly to filter only the liked posts, tap on "Posts and Comments" option.
As soon as you apply the filter a full list of all the posts which you have liked in past will appear on your device's screen. These posts are inclusive of all photos, videos, and pages and alike. Here you are also provided with the option to remove the likes subject to any of these posts by clicking on the three dots next to it. Once you make a click it a menu pops up with the option to 'Unlike', tap on it to remove the previous like associated with that post.
Finding Liked Posts via Facebook Lite App
With no surprise, you must note that it is accurately analogous process to find liked posts using Facebook Lite and the steps mentioned above for Facebook Main App will do the same thing on Facebook Lite App as well.
Open Facebook Lite App on your device
On the Home Page, head to your profile
Go to Settings by clicking on the 3 horizontal dots next to profile pic
Select "Activity Log" by scrolling down through the options
Now tap on "Filters", and then tap on "Categories"
On the new screen, find the "Interactions" option from the list and select it
Finally tap on "Posts and Comments" to filter likes
That's all you need to do. A list will now appear on your screen displaying all posts liked by you previously.
Finding Liked Posts via Facebook Desktop
There is no much of a difference if you go on to find liked posts on Facebook Desktop Mode. The process mentioned in above to methods work the same even in this case with just a few changes in the steps involved.
To find liked posts on Facebook Desktop mode, you are needed to undertake following steps:
Open Facebook Desktop Mode
On the Home Page, locate the inverted triangle icon and click it to open the menu
Now from the list of options, select "Settings & Privacy"
Go to "Activity Log"
Here click on "Filter" link provided next to it
Again from the list of available options, find the "Likes and Reactions" and click it
Lastly make a click on the "Save Changes" option
It will display list of formerly liked photos, videos, pages etc. in the chronological order from most recent to oldest.
Note: As the Facebook activity log is chronologically arranged, with respect to the dates of act being performed, thus if you memorize the date, you can straight away look for that particular day when you liked a photo on Facebook or commented on the one.
Read Also:
Rewind, Revive and Rejoice: Here's How to See Old Stories on Facebook
How To Not Crop Profile Picture On Facebook: Easy Hacks and Tricks