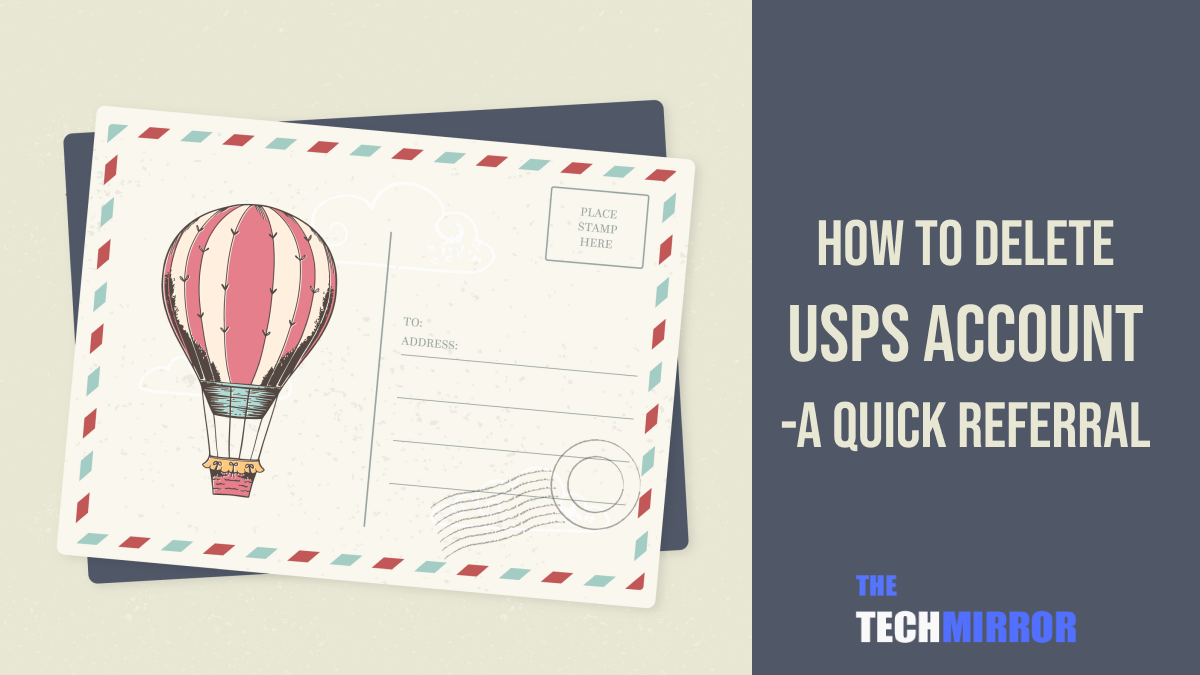 If you have moved out of State for prolonged duration or relocated to some new place, and are of opine to discontinue your profile with USPS, but didn't have a clue on how to Delete USPS account. On the contrary, it may be out of frustration of getting your mail box flooded with numerous promotional messages coming your way which may compel you to deactivate your USPS profile. For whatever may be the reason there is nothing to be anxious about as you can easily delete your USPS account as and when you wish by simply following the methods mentioned herein.
About USPS:
USPS is abbreviated for The United States Postal Service (also recognized by the name of the Post Office, U.S. Mail, or Postal Service). It is a self-regulating agency of the executive branch of the US federal government. Came into existence way back in 1770s, USPS has grown to a vast organization at present rendering postal and other related service in the United States.
How to Delete USPS Account:
If you have decided to deactivate your USPS profile and finally made up your mind about deleting USPS account, you can try a couple of methods which may serve the purpose. You can either remove your account from the official website of USPS or drop an email to the USPS support team requesting for account deletion.
Deactivate USPS Account via Web:
In order to delete your account by web browser, just follow simple steps mentioned below:
Visit  www.usps.com, the official website of USPS
Head to the Support icon provided at the top right corner of home page
Now Click on the Email Us option below Contact Us details
Go to USPS.com under What's the reason for your inquiry?
 Then make a click on My Online Account.
Now a form will appear on the screen. Enter your user name in the first box. Select Profile from the dropdown windowunder Can you tell us more about your Online Account issue? Make proper selection of Date of Problem or Best Guess and mention account deletion request note in the Additional Information box.
Click on Next button to continue.
Go on to provide your personal information and again click on Next.
Finally press Confirm after reviewing all information.
With that you have effectively lodge a request to the USPS Support Team for account deletion.
Delete USPS Account via Request Mail:
The most widespread method to disable USPS account has just dealt in the above section; at the other side you could also delete your account by sending an e-mail to USPS's support team, mentioning the reason for getting the account deactivated. For this you are required to perform steps as given below:
Draft an email requesting for deletion of your account
In the subject mark "REQUEST FOR ACCOUNT DELETION" or "USPS ACCOUNT DELETION."
Write a request message in body mentioning the reason why you want to delete your account and the send it to privacy@usps.gov.
Note:It is not necessary to send the email from the registered email account. You can send a request mail from any other email account with your name. However the request mail must contain the exact details of USPS account you wanted to delete.
Final Thought:
With a varied range of its current services and matchless features, USPS account is certainly to be a must needed for residents of United States. Even then if you don't want to stick to it and resolute to delete USPS account above mentioned methods can work well for you. 
Read Also:
Venmo to introduce Cash a Check for "eligible" users in the US
Facebook to Roll-out Heightened Security Measures in 2021