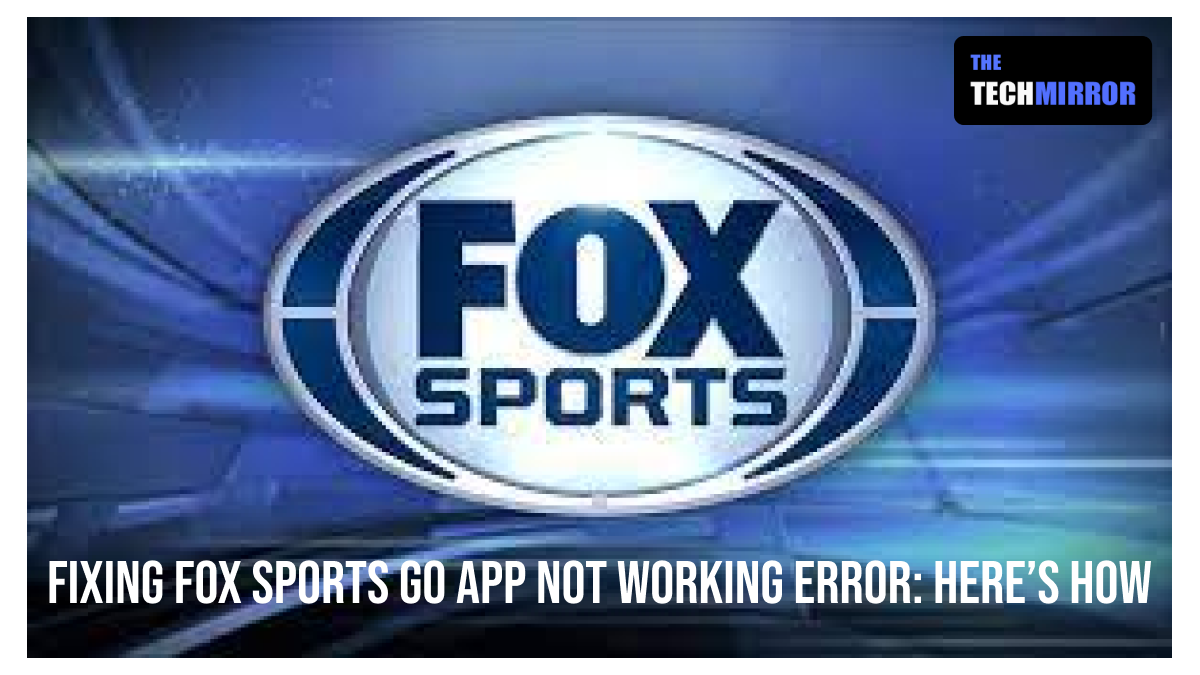 Fox Sports Go is a streaming app which offers you an access to live games as well as studio shows. It provides the finest sports coverage through expert analysis, highlights, and scores. You can stream it anywhere, at any moment and on any device of your preference, by downloading the app to smart TVs, laptop, tablets and mobile phones, as well as other Android and iOS devices.
While streaming through live sport event from your region or some international tournament, users may sometimes get interrupted in middle of it as the Fox Sports Go app stops functioning. If you are also the one experiencing "Fox Sports app not working" error and searching for the ways to get out of this situation, here are some solutions for your help.
But before we go forth, let's first understand the common causes and other reasons behind such occurrence.
Common causes of Fox Sports Go app not working
If you are a sports lover and enjoy watching sports events from around the world Fox Sports Go is a perfect platform to have the luxury of doing so from any place and as per your convenience.
However you will be unable to stream sports events when you are encountered with an error on the app and the Fox Sports Go app suddenly stops functioning. You might be wondering for what could be the reason behind this. So to let you be aware of it, below is a list of some common causes that may lead to Fox Sports Go not working error:
An obsolete/outdated app
DNS issues
Inappropriate regional settings
Poor internet connectivity
Service unavailability
The above list is not an exclusive one and there may also be quite a few other reasons that avert the smooth functioning of the Fox Sports Go app.
Now as you have got the understanding about the causes of the error, you would like to know about how to fix this issue. So continue reading the article and find out different ways to resolve Fox Sports Go App not working error.
How to Fix Fox Sports Go app not working error
Follow methods can help you resolve the issue when encountered with Fox Sports Go app not working:
Method#1 Check for the internet speed
On most of the occasions, slow internet speed let the app to stop functioning. As per the app's requirement a minimum speed 1.0 Mbps is needed for steady streaming on Fox Sports Go. In case where you are getting a speed below the recommended level, the slow speed of internet make it difficult for the app to stream sports events.
In such situation you must contact your ISP to look into the matter and provide a quick solution.
Method #2 Check for the network connections
Another reason for Fox Sports Go not functioning could be the fact that something might be wrong with your cabling or Wi-Fi. In case a "no programs available at this time" message gets displayed on your screen, you must check and verify your network connections.
When your Wi-Fi connection is not working, it is likely to be connecting to some incorrect or invalid access point. It could also happen that you are accessing the service from an unsupported region or there may be a possibility that the service cannot confirm your location.
The problem can be easily sorted out by navigating to settings of your device and thereon activating the location services. If you are experiencing the issue while using a VPN service to stream Fox Sports videos, you need to disconnect the VPN and then try again after few minutes.
Method #3 Check for the Browser Cache
In case you are using a browser like Chrome or Firefox for running Fox Sports, you are likely to experience the problem due to browser related issues. If that is the case, you can try to refresh the page by pressing CTRL + F5 or simply close the browser and then re-launch it in some time.
In addition to that, you must also ensure to clear cookies and cache memory from your browser. Also look for the latest update subject to your browser and get it installed.
Method #4 Check for your device firmware
When Fox Sports Go application fails to function on Firestick or other similar device, you can resolve it by updating the firmware of the device. As there is a chance that your firmware may be an outdated one, updating the same will bring in the latest version and help you to get the problem fixed.
Method #5 Uninstall and reinstall the app
One of the tedious yet effective ways to solve the said problem is to uninstall and reinstall the app. The process will help you to clear junk data and results in swift streaming. In order to uninstall the app on your device perform the following steps:
Navigate to Settings
Then go to Manage All Applications
Select Fox Sports Go followed by Uninstall
Once you have finished uninstalling the app, head to the relative Application Store and install the app back on your device.
Method#6 Go for a full power cycle
When you encounter Fox Sports Go app not working error on your DirecTV, Amazon Fire TV, or Stick; the basic troubleshooting which you can do is to perform a full power cycle.
For this you must unplug your device as well as your router and modem from the power source. After that you need to wait for about 30 seconds and then plug them back to the power socket.
These are the ways that may work well for you when encountered Fox Sports Go app not working. Share it to your dear ones and also make them learn about the same.
Read Also:
Experience the New Age Entertainment: Get Hulu on Sharp Smart TV
Don't let the Surprise go: Here's how to Avoid Spoiler Text on 4Chan