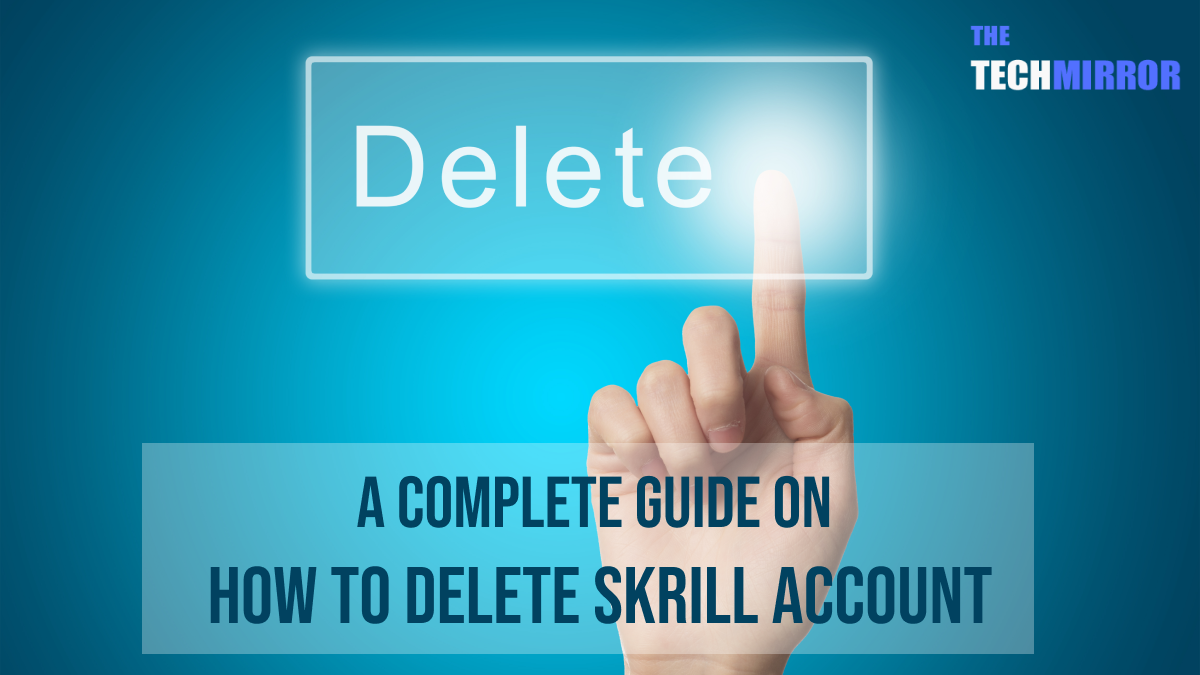 Skrill ensures swift and speedy digital transfer of funds keeping users' safety and convenience at utmost priority. Nonetheless, if you no longer require a Skrill account for some valid reason and want to delete it, here's a complete referral guide which will tell about how to delete your Skrill account.
Before we get straight to the point, let's have a briefing about what Skrill is and benefits of holding an Skrill account.
About Skrill
Incorporated under the laws of England and Wales, Skrill (previously known as Moneybookers) is an eCommerce platform authorised by the Financial Conduct Authority (FCA) for the issuance of electronic money.
Your Skrill Account is an electronic money wallet that allows you to send and receive digital payments. The application permits its users create and edit account information, take out or add money to their bank account, credit or debit card and also to make payment for the things purchased online or even to transfer money to another account.
You can not only denominate a currency of preference from the currencies set, Skrill makes available at your offering many additional benefits listed as under:
Send or receive money across 180 countries and in around 40 currencies
Add money from cards, bank transfers and other local payment methods
Make online payments at bookmakers, poker and casino rooms
Instant transaction notifications, balance check and money deposits
24/7 access to your money from anywhere
Buy and sell of Cryptocurrencies on the go
Despite all the above benefits, if you are still not interested in keeping your account and wish to close your Skrill wallet at any time; all you need to do is to cautiously follow the methods outlined below.
How To Delete Skrill Account
Though Skrill offers numerous features and advantages to users, it may also have a list of shortcomings associated thereto. A few reasons why you would wish for deleting your Skrill account are:
Getting too many promotional mails or other advertisement which can flood your inbox, and probably you may miss out on important mails.
You are shifting to a new country and no longer needed Skrill as that country isn't supporting Skrill.
You are having worry about the security issues while using Skrill application.
More importantly Skrill collects Fees for account management even from inactive accounts. That's why, we would recommend you to delete Skrill account. Please ensure not to leave any sum of money in your account before you close it.
Note: No matter what may be your reason to delete Skrill account please note that you can't close or delete your account before the expiry of 14 days of creating that account.
As Skrill is accessible from a web browser as well as a mobile app, you can delete your account by using either of them. Here's detailed stepwise methods you can try to delete Skrill account:
Method 1: Delete Tour Account Through Website
Navigate to the official website https://www.skrill.com/en/"
Log in to your Skrill account.
On the top right corner of the home page find SETTINGS option and click it.
Now under the Account Status, click on CLOSE.
Instantly, you will see a pop-up Account Closure section on your screen.
As a final step, just make a click on CLOSE MY ACCOUNT option. This will permanently delete your account.
Method 2: Delete Tour Account via Mobile App
•    Launch the Skrill Application on your device.
•     Locate the Profile icon provided at the top left corner and tap it.
•     Now look for the Contact Us option in the dropdown.
•     Then tap on Message Us provided at the bottom.
•     Make selection of category as "Account" and sub-category as "I want to close my Account".
•     Write an appropriate reason about why you want to delete your account in message section.
•     Tap on Send to submit account deletion ticket.
Alternatively, there is one more way to delete Skrill account via mail. The steps to be performed for this is given below:
Method 3: Delete Your Account By Sending A Request Mail
Log in to your email account (the one which is registered with Skrill).
Draft an email marking it to email address data.privacy@paysafe.co
Mention subject as "REQUEST TO DELETE MY ACCOUNT".
Now write a detailed request mail with a valid reason to delete your account and other related information from Skrill database.
Send the mail and wait for the support team to respond to your request.
End Note:
That's all from us. May this comprehensive guide on how to delete your Skrill account help you get rid of your account successfully. If you still have difficulties refer Skrill Account Terms of use for a more thorough understanding on maintaining your Skrill Account.
Read Also:
Easy Methods To Delete Whisper Account
How to Delete Grubhub Account – An Easy Guide For Users