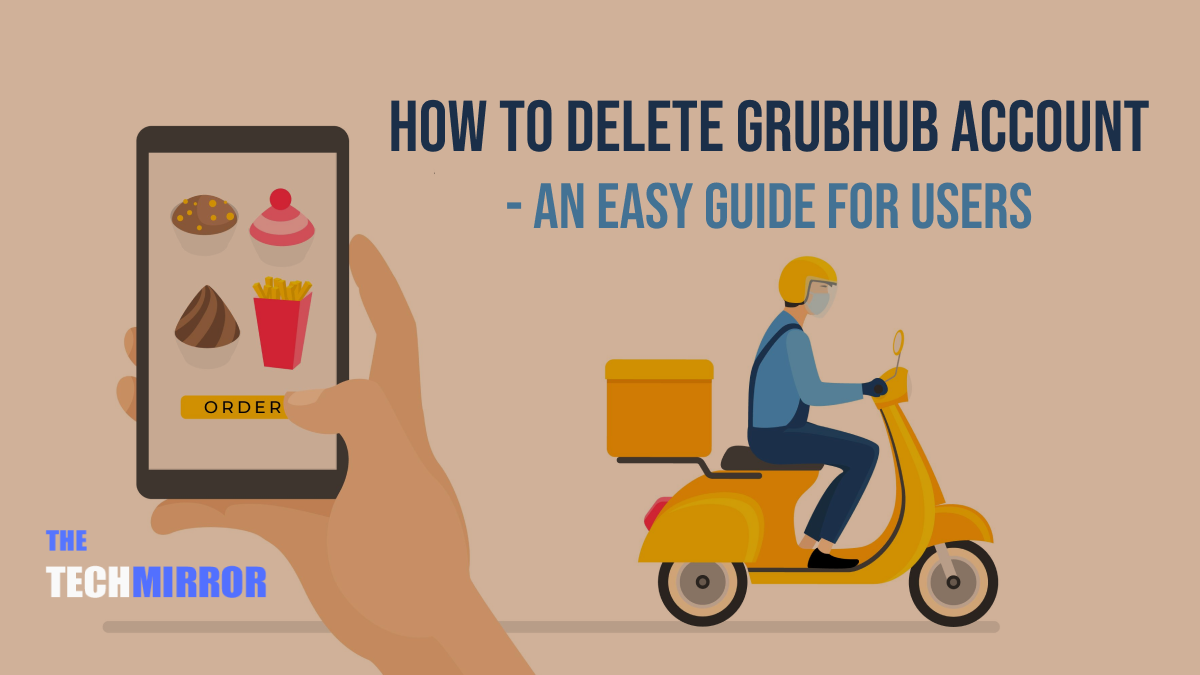 If you are a food lover and fond of experimenting and experiencing new dishes and food destinations you must be registered with Grubhub. But for some genuine reason if you wish to discontinue with Grubhub and wonder how to delete Grubhub account this easy guide can prove to be of great help. It covers simple methods you can follow to deactivate your Grubhub profile.
About Grubhub:
Grubhub, based at America is a food ordering and delivery platform. It is a division of a leading global online food delivery marketplace Just Eat Takeaway.com. The platform currently features more than 300,000 restaurant partners in over 4,000 U.S. cities.
It connects over 33 million diners and food lovers with their preferred local restaurants. Grubhub's easy-to-use platform offers food ordering via inventive technology and a superior delivery experience for users. At the same time Grubhub provides restaurant owners an opportunity to grow their business by accessing the hassle-free technology and marketing tools of the company.
How it works:
You as diner need to just type in an address, Grubhub will do the rest. It will enlist the droves of pickup restaurants near you and more purposely it enable you to search by cuisine, restaurant name or menu item. It helps you to place order online or by phone, without any fee. In addition to that it allows you access to reviews, avail coupons and special deals, a 24/7 customer support and much more.
Why delete Grubhub Account?
With all those numerous benefits coming your way, you would hardly go for deleting your Grubhub account. If getting loads of advertisement emails is the reason why you want to delete Grubhub profile? Forget it as you can unsubscribe to receive these emails. However for any other valid or unavoidable reason such as shifting to a new country or so, this article may lend you a hand in getting your Grubhub account deleted.
How to Delete Grubhub Account:
If you have decided to delete your Grubhub profile, you can try a few tested methods which may serve your purpose. You can get rid of your account by contacting Grubhub customer support via website, Email or even by a direct call. Let's discuss these methods one by one.
Deactivate Grubhub Account via Web:
The simplest and most common way to delete your account is submitting a request via web browser, just follow simple steps mentioned below to delete Grubhub account using its official website:
Visit Grubhub Manage your Data section (the official support page of Grubhub)
Click on the Submit a request provided below 'Delete your personal information' head.
It will route you to Let's verify your email, type your email id in the box given and continue by clicking "Verify my email" button.
Now "Submit Request."
As soon as you submit the request, a message pop up appears on the screen asking "Are you sure you want to delete your account?" Click on "Delete" to confirm.
This is it!! You will now receive a confirmation note about submission of your request.
Note: It may usually take around 45 days after submission of the request to get the account deleted on a permanent note. However you can still use your profile and log in to avail service by that time.
Delete Grubhub Account via Request Mail:
The next method on the list is to delete your account by sending an e-mail to Grubhub's support team. To perform this task you need to graft a request mail with the reason for getting the account deactivated in the body and send it to Grubhub. Below is the stepwise procedure to do so:
Log in to your email account (preferably the one which you have registered with Grubhub) 
Draft an email requesting for deletion of your account
In the subject mark "REQUEST FOR ACCOUNT DELETION" or "GRUBHUB ACCOUNT DELETION."
Write a request message in body mentioning the reason why you want to delete your account and the send it to accounts@grubhub.com.
With that you have effectively lodge a request for deleting your account to the Grubhub Support Team.
Note:It is not necessary to send the email from the registered email account. You can send a request mail from any other email account with your name. However the request mail must contain the exact details of Grubhub account you wanted to delete.
Delete Grubhub Account via Request Call at Grubhub Customer Care:
Next method to delete your Grubhub account is to make a simple request call to Grubhub customer care. In order to contact raise a request ticket you can Call (877) 585-1085 and get your account deleted.
Final Thought:
With its prompt service and beyond compare features, it's every foodie's delight to have Grubhub account. But still if you want to delete Grubhub account, you can go with any of the method mentioned above. Although your account won't be disable immediately after raising a ticket you have to wait up to 45 days (at max.) before your account gets permanently deleted. However the best thing about this waiting period is that you can still access and use your account.
Read Also:
Guide: Know How to Delete AOL Email Account
What is ETD Control Center and Should it be Deleted?