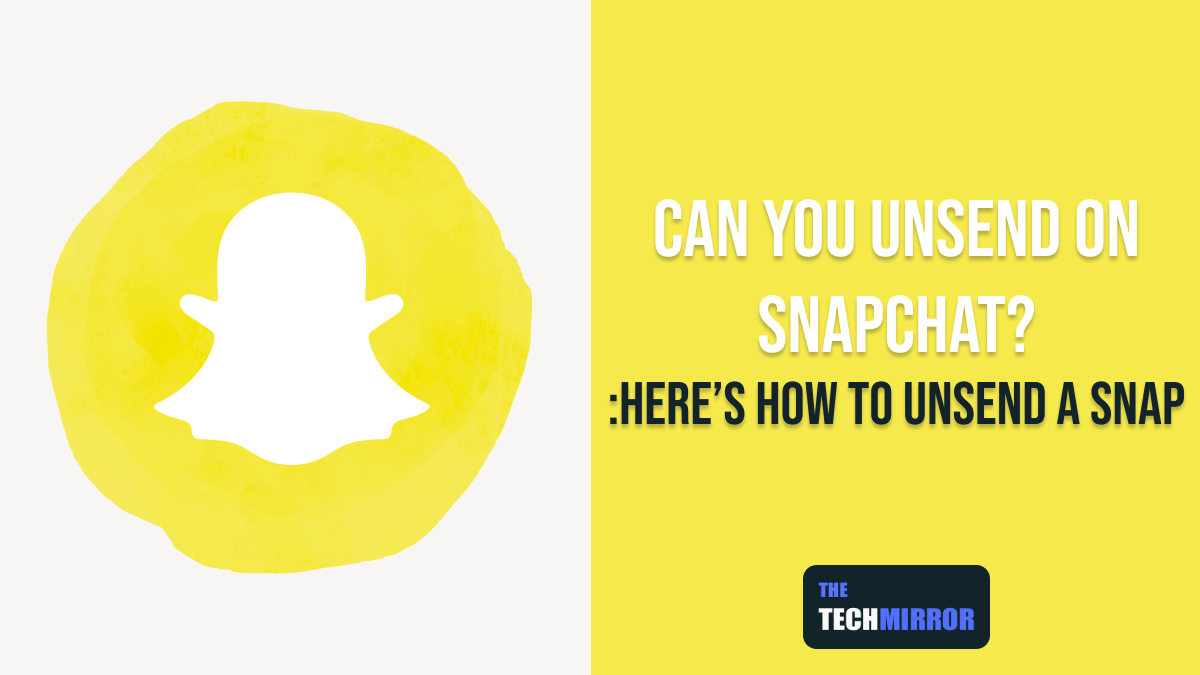 Snapchat is a great place to socialize with people by sending snaps and share fun moments with your loved ones. But to no surprise, at one or the other point of time, you might have experienced a bit of embarrassment for sending a wrong snap to a fellow Snapper (Snapchat User). It seems to be quite an awkward situation where you send a snap to the person whom you didn't mean to send. If you have just done it by mistake and wonder what to do next to delete or unsend it, here's all that you need to know about how to Unsend a Snap.
Unsending on Snapchat:
If you shared a wrong snap or snapped to a wrong person you must be finding a solution to take it back by some means. Well to be honest, there is no direct way to unsend a snap after you have sent it to someone.
Although you will get a lot of hacks on different sites over internet but believe us such tricks hardly work for you, because as soon as a snap leaves your phone, it is not in your control to take it back.
Nevertheless,there is some positive news about resolving this issue. Snapchat, after an update in 2018, let its users to delete snapsto get the job done. Still one need to be pretty quick at it as will only work before the recipient opens it. If the person has already opened it prior to the deletion of snap, then it will be of no good.
Here's how you can delete a sent snap.
Deleting a sent Snap on Snapchat:
For some obvious reason if you wish to delete a sent snap on Snapchat, you can do it anytime before the other person opens it. Once you delete the snap it will reflect on both sides. In other words, snaps or messages will be deleted from your chat as well as from the other person's chat.
However you must ensure to delete it prior to the same being viewed by the person since deleting won't make any difference if that person has already opened the snap.
It is to be notice that your snap says "Delivered" when the person has not opened the sent snap. On the other hand it says "Opened", in case where the person has already opened the snap and by that time it's too late for you to delete it.
The stepwise process to delete a sent snap on Snapchat is given below:
How to delete a sent Snap: A stepwise guide
Step 1: Finding the snap you want to delete
The first step in the process is to find the particular snap which you wish to delete. Following tasks are required to be performed to do so:
To begin with, launch Snapchat app on your device.
As you landed on Snapchat,head to your chats by tapping on the chat icon.
Now in chats go to the specific user from where you want to delete the snap.
To open conversation, tap on the user.
Here locate the snap you want to delete it.
Once you find the snap to be deleted, go on to perform instructions as mentioned in step 2.
Step 2: Deleting the sent Snap
After locating the Snap that you want to delete, the next step is to tap and hold the snap.
Once you do it, an option called "Delete" will pop up on your screen.
This will let you to delete the sent snap. Tap on "Delete" to proceed.
Again you will get a further pop-up message.
Tap on "Delete" to complete the process.
Note: Deleting a snap will work nearly every single time. And, if you delete a "Delivered" snap, then it will be deleted permanently with no further possibility to open it anytime later.
Considering the situation where the user might have seen the snap and took a screenshot of it, there's no meaning to delete the snap.
Let's now have an understanding about what happens once you deleted a snap.
Once you successfully complete the aforesaid steps to delete the sent Snap, the other person will get to see a message which read, "x deleted a snap", with x being your name. Snapchat will show a customary message to that person giving a piece of information that you've deleted it.
This signifies that the snap has been deleted from both sides, though there is no guarantee that the person hasn't opened and/or seen the snap.
To Sum-up:
Luckily, back in 2018, Snapchat has come up with an update to include a feature which enables you to delete your snaps and messages. In case you sent a Snapchat to the wrong person, you can delete it by just tapping and holding on the snap for a "Delete" option to pop up on the screen. Deleting a Snap will remove it from both sides. Nonetheless, you need to ensure that you delete the snapwithout delaygiving the other person no chance to open the snap.
Read Also:
Unable to Login? Know How To Change Password On Snapchat
How To Get Rid Of Snapchat Stuck On Sending Messages