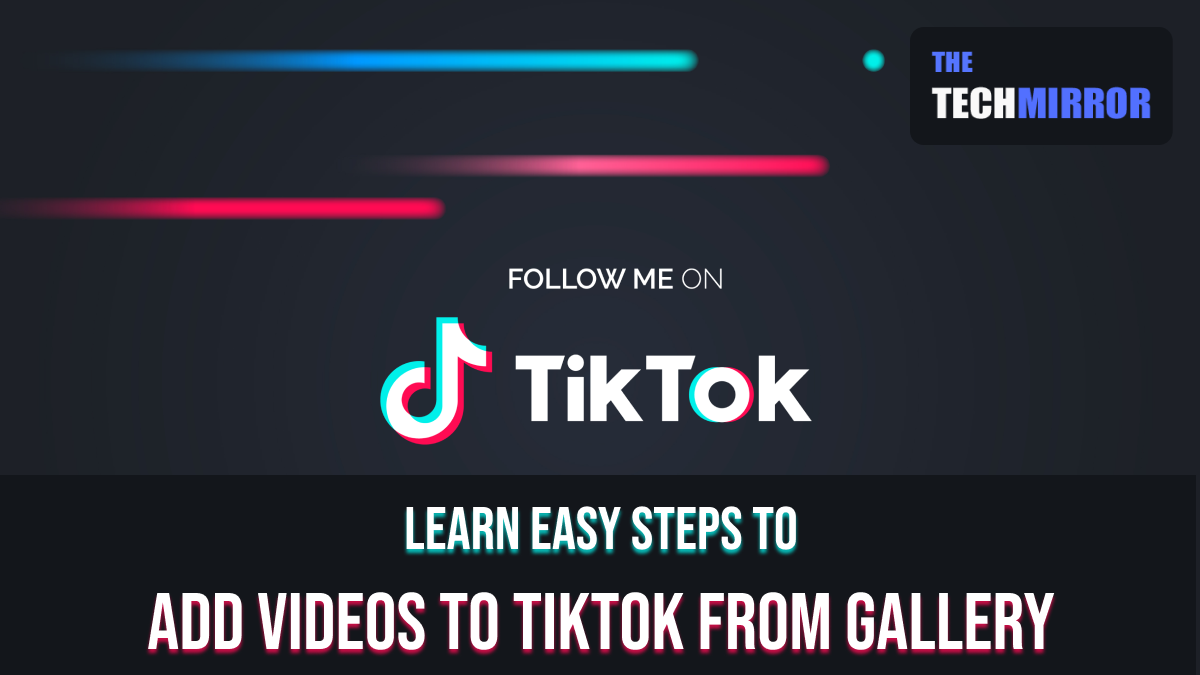 Are you fond of recording interesting and funny videos and sharing them with people around, TikTok is one of the best platform. Here you can upload a self-recorded video, but if you are new on the application and have no idea about how to add Videos to TikTok, this is a must read blog post for you. This post will let you understand the stepwise process of uploading videos to TikTok from your gallery.
So let's go on to learn every bit of the process.
About TikTok:
Endorsed as a video-sharing social network, TikTok let its users to create and share short videos (of just 15-seconds) on diverse topic. They can create a range of funny and engaging videos which may include comic videos, dance videos, magic tricks videos and much more. It has an option for users to directly upload videos created on your phone.
TikTok has numerous filters and effects (such as bling, green screen, time warp scan) which can be usedfor the purpose improving the visual appeal of your videos. In addition to that the platform has lately introduced the feature called "reactions", using this feature one can record their reactions to videos and share.
Now let's get straight to the topic and know about the process of adding Videos to TikTok. Here's how to upload videos from your gallery:
Uploading Videos to TikTok
To upload videos to TikTok from gallery of your device, you need to use "+" icon followed by the "Upload" icon. The "+" icon lets you to either record yourself/others or to upload a video to TikTok from your gallery. You must know that it is practically possible for you to selectmultiple videos and photos at once.
Additionally, you can edit the selected video(s) and photo(s) to trim, add sounds and effects, insert texts, and so on. You are also provided with an option to change the privacy settings of the video. After all the editing is done, you can add a caption and finally go on to upload them.
A detailed step-by-step process to add Videos to TikTok is given below:
Step #1: Tap on the "+" icon, then tap on "Upload"
To begin with, keep this in mind that it won't be possible to upload TikTok videos on a desktop, so you must use the mobile app to get the job done. Follow the instructions as mentioned underneath:
Open TikTok app on your mobile device and then tap on the "+" icon provided on the bottom navigation bar.
Tapping on the "+" icon, will let your camera opened. Now here you can either record a new video or upload an existing video to TikTok.
On the camera, you will find several icons like "Flip", "Speed", "Filters", and others. And at the bottom you will see an "Effects" and an "Upload" icon. (The "Effects" icon will give you access to multiple TikTok effects that you can use while you're recording a video. While "Upload" will let you to add a video to TikTok from gallery.)
Since you are looking to upload a pre-recorded/saved video from your gallery, go on to tap the "Upload" icon.
Having done that you should now proceed to the step 2 as discussed below.
Step #2: Select the video/photo to be uploaded
As soon as you tap on "Upload", it will open your gallery. Here, you will have all the saved photos and videos listed in gallery. Select one or more videoand/or photos which you want to upload. If you wish to edit the selected stuff, then consider these points:
To trim the video drag the red rectangle.
To add sound, effects, text, use corresponding editing tools.
Finally, tap on the "Next" option after you have edited the video.
Note: You must ensure to edit the video by adding a appropriate and trending sound or effects, so that it appears "native" to TikTok.
Step #3: Add a caption & post the video
After editing is done, you next task is to add a caption. Adding a catchy caption and relevant hashtags can increase the organic reach for your post. To add caption and post the video you need to undertake steps as follows:
Head to the "Describe your video" field, and then tap add a caption.
Now add a caption and hashtags to your video.
Verify the settings of the video once again and make changes if necessary, before you proceed.
Once you find everything OK, tap on "Post" to add video on TikTok.
Congratulations!! You now know how to upload a video to TikTok from your gallery!
Points to remember while adding videos to TikTok:
Whenever you try to add Videos on TikTok from your phone's gallery you should remember that videos from your gallery are likely not to perform that well as compared to a recorded video from TikTok. As TikTok can identify whether a video is recorded on the app or elsewhere, hence to bypass it, you must edit the videoon TikTok if it is recorded elsewhere and saved on your gallery.
Make sure not to post any pre-recorded video without editing it on TikTok as in such case it isn't "native" content and may not perform well. You can trim the video; add sounds and effects to get it on the "For You" by making it "native"on TikTok.
Read Also:
Get a track of videos watched: Here's how to see TikTok History