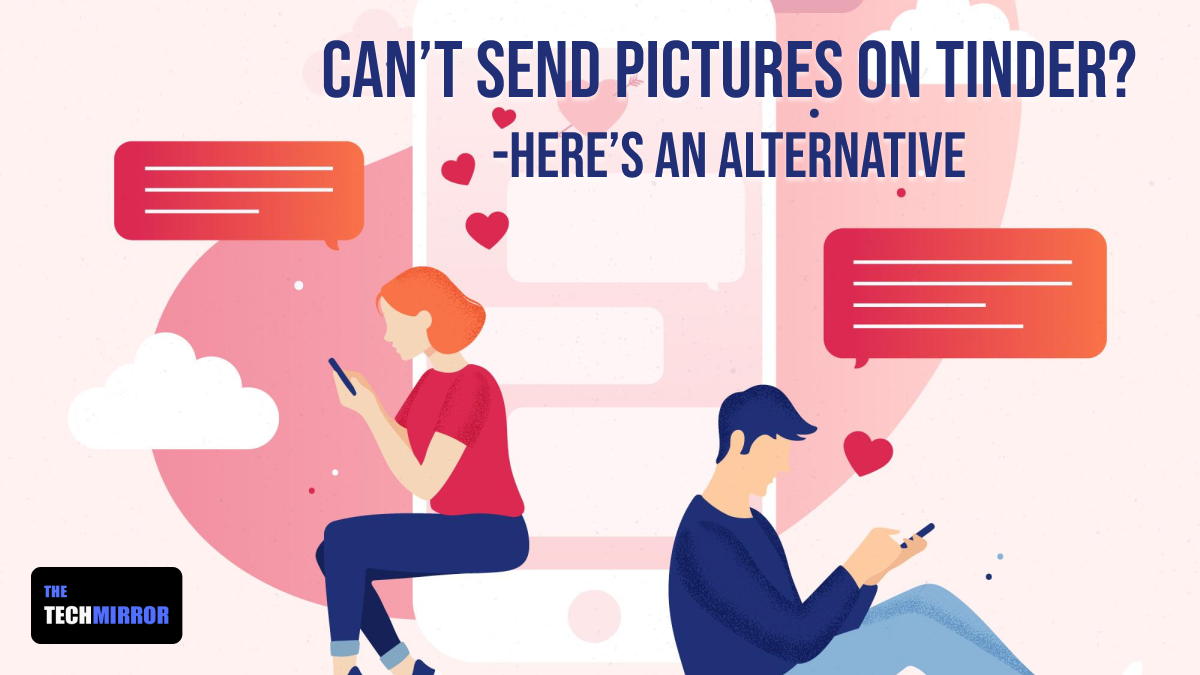 Tinder, founded in 2012, is a global online dating platform and geo-social networking application where you can meet new people. No matter whether you are new to the platform or otherwise, if you wonder about sending pictures on Tinder as messages and have no idea about if it is possible or not? This is a must read for you. We have compiled this blog article to address one of the most frequently asked questions by Tinder users and will let you know how to send Pictures on Tinder.
So with no further delay let's get straight to the point and learn more about it.
Can you send pictures as message on Tinder?
Well, if you are looking for an answer for the possibility of sending picture as message on Tinder; sorry to say, the answer is a big NO. Regrettably you cannot send pictures on Tinder by any direct means. Even if you are subscribed to Tinder Gold, the platform doesn't have any such feature that may allow you to send pictures as message.
Nevertheless, you need not have to be disheartened as there are alternatives available for this by which you will be able to send pictures on Tinder. Here's how to have a go at it.
One of the best alternatives for sending pictures to your match on Tinder is via prnt.sc. Here are the simple steps that will let you to send photos from gallery of your phone using prnt.sc:
To begin with, click a photo or save any onto your camera roll/gallery.
Open your preferred internet browser (be it Safari, Chrome, or some other browser of your choice).
Now navigate to prnt.cs.
Once you landed on the website, click on the blue box that says "Browse Images".
Then select "Photo Library" from the pop-up menu which shows up on your screen.
Now browse your photo library and select the photo that you wish to send.
After you have selected the picture, the website will automatically generate a link for the said photo.
Open the link to ensure and confirm that it is the same photo which you have just selected. Then copy the link.
Thereafter open your Tinder app and head to the chat-box of the person to whom you want to send it.
Finally, paste the copied link here in the chat-box and hit the Send button to finish the process. 
That's it. This is such an easy and secure way to send pictures on Tinder. Same way you can also generate links for pictures on your Google Drive or iCloud in addition to Facebook, Instagram, or alike social media platforms as well. Just make a link and share them right away to your match on Tinder and enjoy dating.
Now having learned about the alternative way to send pictures on Tinder directly to the chat-box of your match, let's move towards finding out answers for some other FAQs related to uploading profile pictures, sending GIFs and Bitmojis on Tinder dating app.
Many users have enquired about uploading profile picture for viewing of a single match. If you are also searching for a possible way to do so, here's an answer for you.
How to Upload Pictures on Tinder Profile just for One Person?
Though there's no straight way to do it, yet you can upload a picture to your Tinder profile and make it happen. It is quite possible to upload profile picture and let it to be seen only by a specific person. Here's what you have to do for this.
Before you upload a picture ensure that you are currently in a conversation with that particular person and then follow the steps as under:
First of all, click on the Add Media option on your Tinder profile
Upload a picture you want the other person to see
Let the person be aware of it, inform them to check out the recently uploaded profile picture (PS: you don't have to be direct and let them know that you have uploaded it for them, keep them guessing on this by giving a hint as at times it may work wonders for you.)
Once they have seen it, delete it quickly
Note: Be a bit careful while uploading the picture as it is very much likely that someone else may also spot it on your profile. Hence you have to be extra fast and delete it in a flash, soon after your match sees it.
How to Send GIFs and Bitmojis On Tinder
Bitmojis and GIFs are always a great way to emote your feelings and express yourself. While chatting with your match on Tinder, they can surely spice up the conversation. Let's understand how you can send GIFs and Bitmojis on Tinder.
How to Send GIFs on Tinder?
The process of sending GIFs to your matches on Tinder is super easy. However, before you get started make sure that you are having the latest version of Tinder app installed on your device, if that is not the case ensure to update it and then proceed with following steps:
Find a match on Tinder
Open the chat-box
Now, locate the GIF option provided at the bottom-left corner of the chat window
Click on the GIF option. Here you will get to see a range of GIFs.
Finally, select one or else search for specific GIFs and then hit the Send option.
How to send Bitmoji on Tinder?
Just like GIFs, you can also easily send Bitmojis on Tinder with the help of an integrated Snapchat's Bitmojis. All you need to do is perform the steps provided as under:
First of all, open the Tinder app on your device.
Head to the chat-box of your match on Tinder.
Here in the chat window, you will get to see an option of green Bitmoji. Click it.
A new window will appear and ask you to "Connect To Snapchat".
Finally, enter your Snapchat login credentials and you are ready to go.
That's it. This way you can connect to Snapchat and send bitmojis of your choice.
Summing Up:
We have just let you learn about the alternative to send pictures on Tinder and also provide information to make your conversation more fun and enjoyable on Tinder by using GIFs and bitmojis. Hope you find the article handy. Thanks for reading it and do share the same with your dear ones.