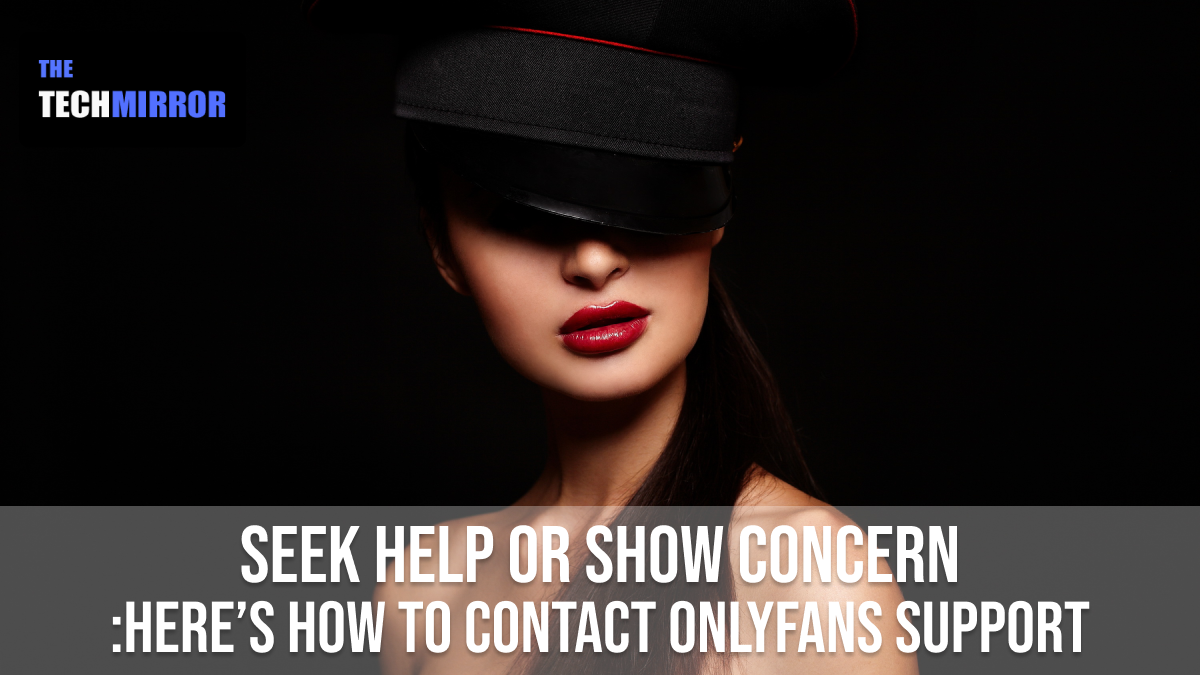 If you are a content creator on OnlyFans and having an issue with your or otherwise facing any other problem related to uploading a video on the website and alike. Such situations might require you to contact OnlyFans support. On the contrary, if you are looking of working methods for easily getting connect with the OnlyFans support as a Fan to raise some concern subject to your subscription or otherwise. In that matter, you have probably landed on the right blog. This blog article will let you understand the best ways to get help by contacting OnlyFans support. So let's get started and learn how to contact OnlyFans support team in 2023.
Contacting OnlyFans Support:
If your are facing some issues on the platform or just want to show concern for some other problem related to OnlyFans that you are facing as a creator or fan, contacting customer support is likely to be fairly a good choice. Unlike other social media platforms, contacting OnlyFans is pretty easier, and having that done you can always expect to get a quick response.
In this article, we will tell you three ways to contact OnlyFans support if you have a problem related to the website or any question to ask from the support team. The methods include – creating a ticket, sending an email or just sending a direct message and ping them on Twitter. Alternatively, you can also visit their help center and refer to the answers of some frequently asked questions.
Read through the detailed guide provided below to know about the methods by which you can contact OnlyFans support.
How to Contact OnlyFans Support?
You can contact the OnlyFans support team by using any of the below-mentioned methods:
Method#1 Create a Ticket
The first method to contact support team of OnlyFans is by creating a ticket. It requires you to be logged into your OnlyFans account and then visit the help center. There you need to select the "Take me to support" link provided at the bottom of the page. In short, you have to take the path as:
Log in to your OnlyFans account > profile icon > Help and support > Take me to support > All tickets > Create ticket > Select a question > Add details > Attach file (optional) > Create ticket.
Let's look into the step-by-step process to create a ticket. Here's how you have proceed:
To start with, go to the official OnlyFans website.
Now log in to your OnlyFans account by entering valid credentials.
Once logged in, select the profile icon located on the bottom navigation bar, a new menu will then appear on your screen.
Here you will get to see options like – My profile, Bookmarks, and so on.
Scroll down the menu to locate "Help and support", select it to go to OnlyFans help center.
Once landed on the OnlyFans help center, scroll down to find the "Take me to support" link.
Click on the link to go to the tickets page and then hit the "Create Ticket" button to create a ticket.
Select a question from the help center, and then add further details about the problem or issue you are facing.
Finally, select "Create Ticket" to create the ticket. (Note: you can also attach an image/screenshot of the issue)
That's it. You have just created a ticket and it will be shown under the "Open tickets" tab. OnlyFans will usually respond to the ticket submitted by you within three business days. In case it gets resolved then it will be moved to the "Solved tickets" tab or if it is closed, then it will be moved to the "Closed tickets" tab.
Let's move to other methods to contact OnlyFans support.
Method#2 Send an Email
The next method is to contact OnlyFans support team is by sending then an email. If you want to email OnlyFans, you can send questions and issues via mail to support@onlyfans.com. This official email address is exclusively meant for user questions.
Apart from that media@onlyfans.com email address is reserved for media and press to get connects with OnlyFans officially.
In order to ask questions or raise issues or concerns with the OnlyFans website, you can contact OnlyFans support by emailing them on support@onlyfans.com. Here's how to do it:
Open your email and go to create an email
Ensure to include a subject line and further details about your question or issue, and also attach a proof of it (optional). (Note: To have a better understanding, ask your question or explain your issue in as much detail as possible.)
Cross check by proof-reading the mail and finally hit the sent mail button.
Once you have mailed it to the OnlyFans support be patient and wait for three business days to get a response from them.
Method#3 Ping them on Twitter
Lastly, you can contact OnlyFans is by pinging them on their official Twitter account. This can be done in two ways; by mentioning them in a tweet or just sending them a direct message. Here's how to get the job done via using this method:
Firstly, you have to post a tweet containing your question/issue and tag @OnlyFansSupport. For doing so you need to take the path as:
Open Twitter > Compose a tweet > Ask your question/explain your issue > tag @OnlyFansSupport > post it.
On the other hand, you can also send them a direct message to let them know about your question/issue. This can be done by using path as:
Open Twitter > go to @OnlyFansSupport > mail icon > send your question/issue.
Note: There is no specific or fixed time on how quick OnlyFans support will respond to it, but this is by far the simplest and most effective way to contact them.
Conclusion
That's all you have to do to contact OnlyFans support. In case you have any questions to ask or some issues to highlight, the best way to get help is to contact OnlyFans support. You can get the job done in three ways, i.e.; by creating a ticket, emailing them, or pinging them on Twitter.
Read Also:
Is it Possible to Screenshot OnlyFans? – Learn Here…
OnlyFans PayPal Payments: Feasible or Not? Check it out here…
Can OnlyFans See Your Name? Here is Everything you Need to Know!