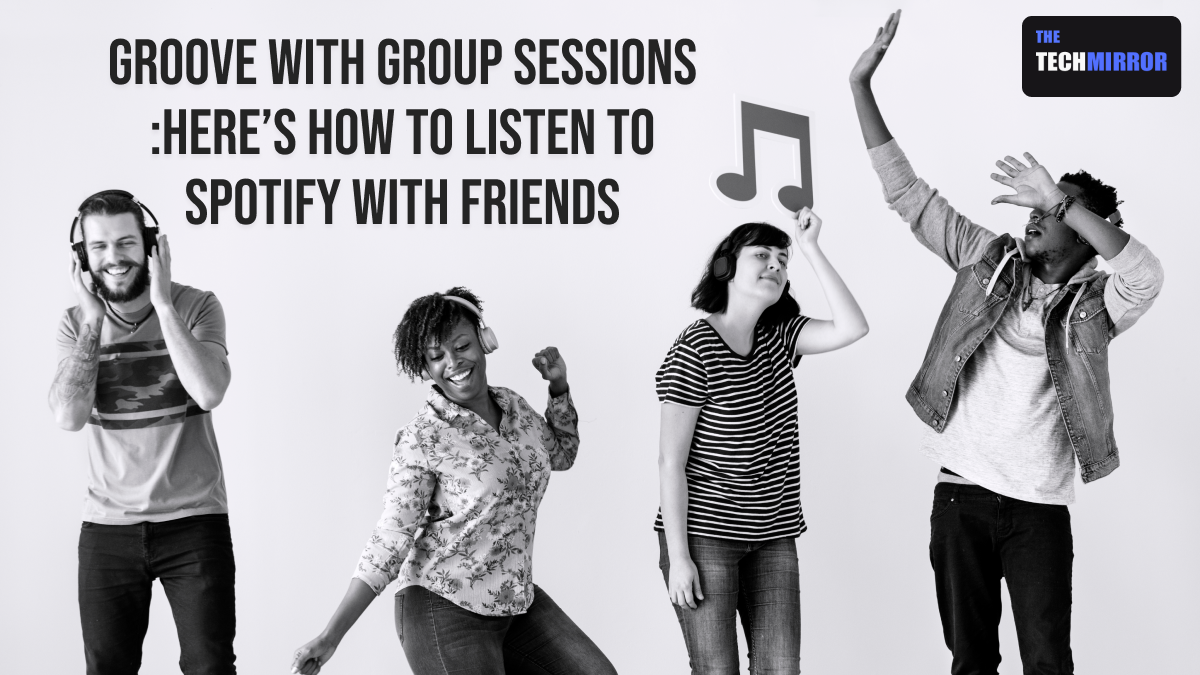 At one time or other, you must have heard that Music has this amazing power to bring together and connect people. And if you are Spotify user, you can even realize the truth behind it.  Spotify is a preferred destination for millions of music lovers around the world. The Group Sessions feature on platform let you the option to add friends on Spotify for the purpose of sharing and discovering music. So, if you have no clear idea about how to listen to Spotify with friends, here's a must read for you.
This blog article will cover steps relating to the use of the built-in Group Sessions feature and make you learn everything as to how you can listen to music and enjoy with friends on Spotify all at once. So let's check it out.
About Group Sessions Feature on Spotify:
Spotify, the popular music streaming platform, has introduced this all-exciting Group Session feature in May 2020. The feature allows you to listen to a song or podcast at the same time. It also let you to share a link for your Group Session to other users via a text message or an alert on social media app. Once a user accepts your invite, they also gain access to control playback, select a new song, or add one to the current playlist.
Initially, the feature was exclusively accessible to Premium users in the same location. However, now it is expanded to users across the globe and you could listen together with connections beyond geographical boundaries.
Note: To use Group Sessions feature, you must be an active Spotify Premium subscriber. It is also to be noted that currently this feature is only available on Spotify mobile app (for phones and tablets) and not on the desktop version of Spotify.
The Group Sessions feature by Spotify allows Spotify Premium users (a maximum of up to seven) to attend a virtual listening party. Here's how to listen to Spotify with friends using the built-in Group Sessions feature.
How to Listen to Spotify with Friends via Group Sessions
If you are a Spotify premium subscriber, then using a Group Session you can add friends to listen together, in real time with everyone invited will be able to control what's playing on.To start a Group Session on Spotify, you need to follow these steps:
Launch the Spotify app on your device (be it iPhone, iPad, Android Mobile or Tablet).
Start playing something (a song or podcast).
Now, tap on the Connect button located at the bottom of your screen.
Thereafter, make a tap on the START SESSION option provided under Start a Group Session.
Here, tap on INVITE FRIENDS option. To send an invite you can:
Share it with any social or messaging app listed thereon
Choose Copy Link to send your own way
Show the user a Spotify code which they can scan to join
Once an invite is sent, the person you invited can either accept or decline the invitation. If the person accept it, then they can opt for following:
Listen the playing stuff on their own device
Listen it on your device (with having it controlled from their device)
However, if you want to stop a Group Session, you can either leave or end it depending upon whether you are and invitee or one who invited others for the session. Here's how to stop a Group Session using the steps below:
Just tap on the LEAVE SESSION option listed under Group Session.
If you started the group session, tap END SESSION.
That's all you have to do to start and stop a Group Session. Kudos!! You now know about how to listen to Spotify with friends.
Summing Up:
Sharing Music and creating a Group Session on Spotify is a great way listen to your favorite stuff, have fun and enjoy with friends. Just to recall, here's how to listen to Spotify with friends: Open the Spotify App on your mobile phone or tablet, select a song or podcast episode and play it. Tap the Connect icon from the lower-left corner and then get going to groove with the Group Session feature.
Read Also:
Sing Along To It! Here's How To See Lyrics On Spotify
How To Make Spotify Louder? – Here's Working Alternatives
How to See How Many Times You've Listened to a Song on Spotify
How to See How Many Streams a Song Has on Spotify?