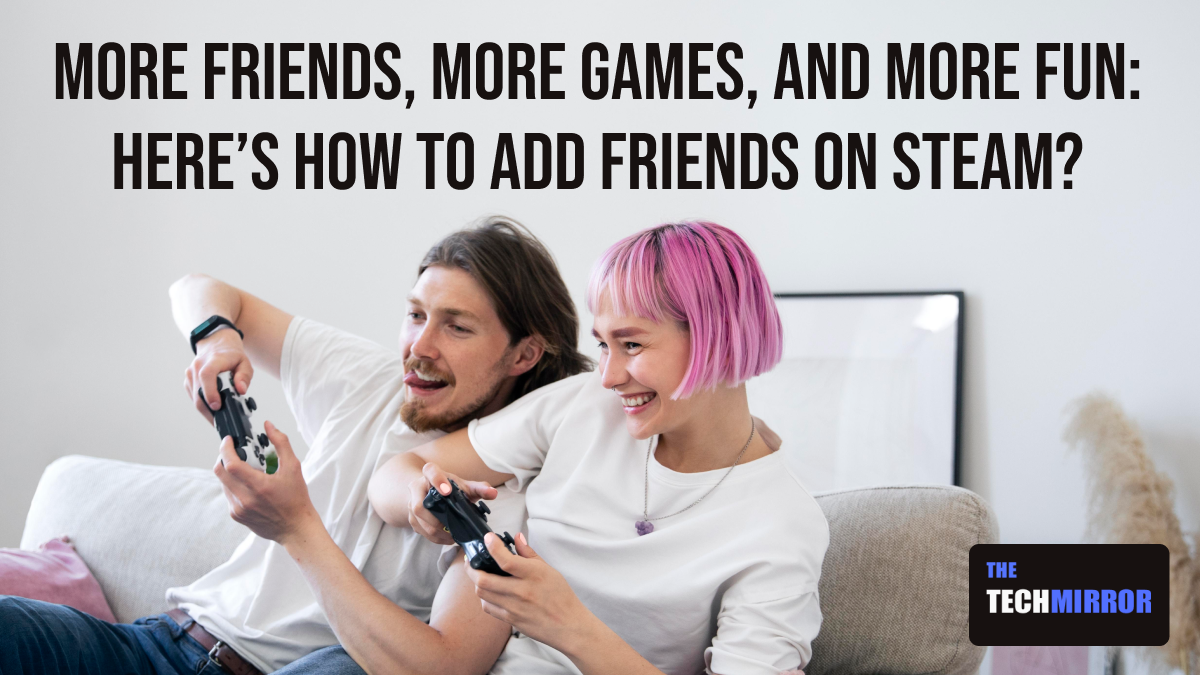 No matter, if you are on Steam for long or just join the platform, you would like to grab the chance of having fun with your friends. If you are looking for ways as how to add friends on Steam, this is just the right place to know how to have a go at it.
Family Library Sharing system on Steam let you to access, share and enjoy the games owned by either of the parties, i.e.; you and your friends or family members. But, it is only possible when you add them as friends on Steam.
If you wonder what you need to do to find people on Steam and add them to your friend-list, here's a brief details on a few methods in this regard. So let's get started to find the people you want to play game with and learn how to add friends on Steam.
Why To Find/Add Friends on Steam?
Steam allows you to add or invite friends to build up a friends list on the platform. This will enable you with the opportunity to play your much loved games with the ones you enjoy them the most – your friends. By adding friends on to the Steam gaming platform, you gain access to a whole new world of multiplayer gaming. You can then team up with your friend in multiplayer mode and much more.
Adding friends will let you make voice and text calls to them from your device. Not only that you can also keep a check on the games your friends are playing and also you can send games as gifts to the ones who are friends with you.
Having understood the benefits and advantages of adding your loved ones on Steam, you must be more curious about how to add them. So here's how to find people you know and add them as friends on Steam.
How to Add a Friend on Steam?
To begin with the process, you must first find the people you know before you can add them as Steam friends. This can be done either by using the Quick Invite link or else via a Friend Code. The steps for both the methods are listed below:
Use Quick Invites
The first way to find or add friend on Steam is by sending them a quick invite. In case you would like to use this method, all you need to do is to follow steps provided as under:
Open your Steam profile and head to the Add a Friend page
Here look for the option to send a Quick Invite.
Click on the copy provided next to your link.
Now, paste the copied link into text message or an email to send it to your friend.
That's all you have to do. Once sent you have to wait for their action. If you need a new link, just click on Generate a new link option provided underneath the existing one.
Note: It is to be noted that the Quick Invite link can be used once and only within 30 days.
Use Steam Friend Codes
For using a Steam Friend Code to add friends on Steam, you are required to follow these instructions:
Launch the Steam app on your device (be it Desktop PC or Mac.)
Now, look for the option called Select Friends and click it.

On Windows – you may find it from the toolbar provided at the top of the app

On Mac – you may locate the option on the menu bar

Once done, choose Add a Friend.
Just copy your Friend Code and send it to the one whom you want to add as friend. You can send the code either by using text message or an email.
On the other hand, if you have a Friend Code for them just enter it into the field provided below your Code and then click on the Send Invite button.
Finding Steam Friends: Alternative Methods
Via Name, Username or Profile Name
Apart from the above two methods, you can also search for your friend if you know their name or username or profile name. Here's how to do this:
Open the Steam app and go to the Add a Friend page
Enter the full name or username or profile name the person you want to add as friend, and then hit the magnifying glass icon to initiate search.
If the person shows up in search results, locate the person and click on Add as Friend.
Using Steam's Friends Window
'Friends Window' on Steam is a pop up window where you can see your online friends, accept or decline incoming requests, chat with existing friends, or even add new ones. Here's how to use the Friends Window on Steam to add a friend:
Open Steam app
Go to the Friends Window
To add someone as a friend from here, right-click the user in this window to send them a message or start a voice chat, view their profile, and add them.
Using Steam's Match-making Technology
Another alternative method to add a friend on Steam is via Steam's matchmaking technology. Once you have played a game with someone any time before, it is quite possible for you to find that person and add them to your friend-list using Steam's matchmaking. Here's how it works:
Open the Steam app and go to the Add a Friend page
Once you are on the Add a Friend page, click on option called Recently Played With.
This will then show you, your play history and profiles of the users you have played with before.
Finally, look for the person you want to add as a friend and then click on Add as Friend button.
Wrapping Up
That's it. You have just got the answer of how to add Friends on Steam. Also you have successfully learned the ways to find people to add as friends on the gaming platform. So as they say "Gaming is meant to be a Community", use the friend-list feature by Steam. Make the most of it, to add more friends, share more games, and enjoy to have more fun.
Read Also:
"Steam Takes Forever To Open": A Handy Guide To Resolve The Issue
100 Best Funny Steam Names for 2022
Steam Shared Library Locked: Here's How To Get Out Of It