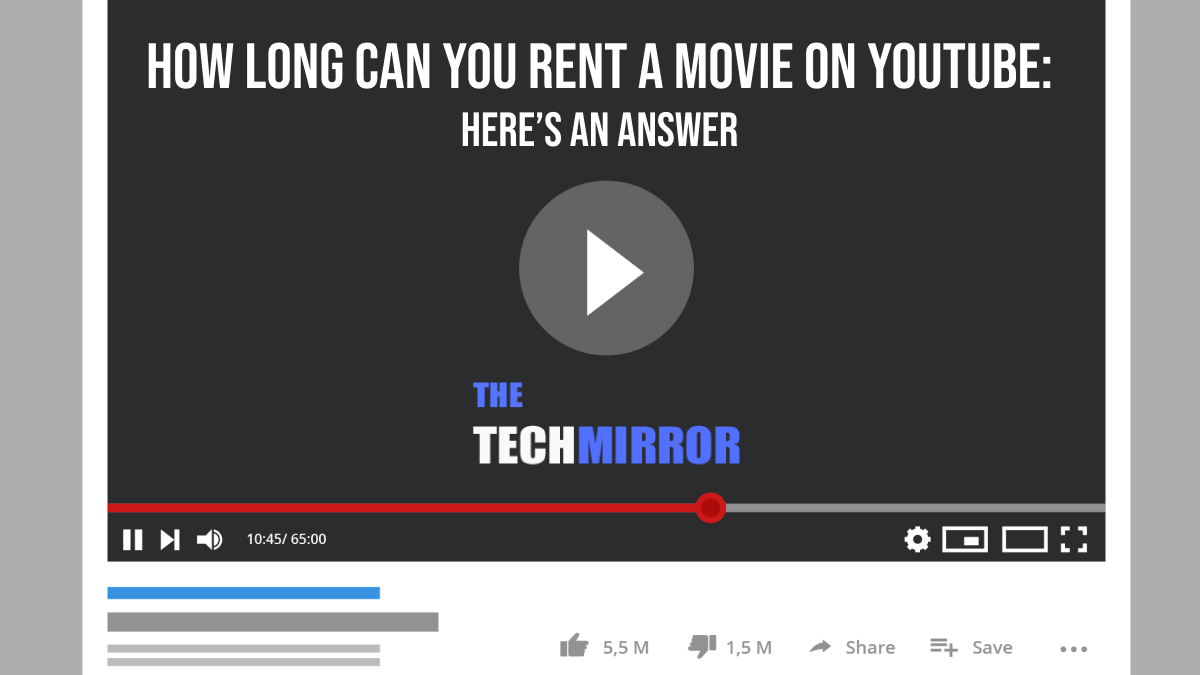 YouTube is one of the most chosen means of infotainment. This electrifying video repository has in store millions of award winning movies and shows which are available for purchase or on rent. Viewers often ask for a question that once they buy or rent any video from YouTube how long does it last? Well, you must read through the article to have an answer for how long can you rent a movie on YouTube in 2023.
In addition to that we will also address issues like how to buy or rent movies or TV shows on YouTube, once purchase or rented where they get stored and how to access these purchased videos.
So without taking much time, let's get into the further details.
Buying or Renting Videos on YouTube:
YouTube offers its users a choice to buy or rent any particular movie or TV shows of their liking. Unlike other platforms such as Netflix or Amazon Prime, while purchasing any video on YouTube you need not have to pay the entire subscription amount.
However the only constraint it might have is your geographical location. The accessibility of movies and shows to buy or rent vary from country to country. For instance, movies or shows which may be available in US will hardly be at an offering in Australia. Moreover, in case of TV shows you have no option to get it on rent (Japan being the only exception to this) while you can buy the TV shows at any point of time.
How To Buy or Rent a Movie or TV Show:
As discussed above you can buy a movie or rent it from YouTube, just follow the below mentioned steps to do so:
Go to the website youtube.com.
In the search bar enter the name of the movie or TV show which you want to purchase.
Click on "BUY OR RENT"
Select the appropriate option.
Now choose the preferred method of payment and then click OK.
Particular video will automatically appear under the list of purchased videos.
Now as you understand the process of buying or getting a movie/show on rent let's learn more about what happens to these videos once you either buy or rent them?
Read Also: Know How to Find Hidden Videos on YouTube With This Secret Trick!
How long and where does a Purchased or Rented Movie or TV Show last?
As an answer to this question; the videos will get stored and remain in purchased videos for a specified time known as the locker period.
Immediately after the purchase, your video will be tagged to your account. You can access such purchased stuff from the Purchased Movies & Shows section by logging in with similar YouTube account credentials from which you have brought the video.
How long does a purchased video last on YouTube?
As once you buy or rent a video on YouTube, it gets stored in a digital locker. With no restriction on how many times you can see that video, it will remain in the locker till the expiry of the locker period. Though different videos have different locker periods, in general cases this period would be of five years from the date of purchase.
Note: If the videos have been taken down prior to the expiry of locker period you can claim for a refund by sending a request in prescribed way.
How long does a rented video last on YouTube?
You must make it very clear that buying and renting a movie on YouTube are two separate things. And how long can you rent a movie on YouTube also vary accordingly. Though every video bears an option to both rent and buy, if you pick the rent option then you are abide to follow terms and conditions mentioned below:
The said movie will only be available for specific rental period which commence as soon as you started watching it. It is to be noted that the rental period differ from one video to another.
Previous to watching a rented movie, you must confirm it by pressing the "Start rental period" button.
You can access the rented movies on YouTube under the Purchased Movies & Shows section. Here you can view the list of all purchases as well as rented videos on YouTube, just click on the video to start watching it.
Note: In case of a rented video you can request for a refund or cancellation in seven days from the date of purchase. However it is only possible if you have not started to watch that particular movie.
FAQs
How many times can you watch a rented movie on youtube?
If you have rented a movie on youtube, you can watch it as many times as you like until the rental period is over.
Can I watch rented youtube movies multiple times?
Yes! You can watch rented youtube movies for unlimited times until the rental period expires.
Read Also:
How to Find Out When You Subscribed to a YouTube Channel
Here's How To Find My Uploaded Videos On YouTube