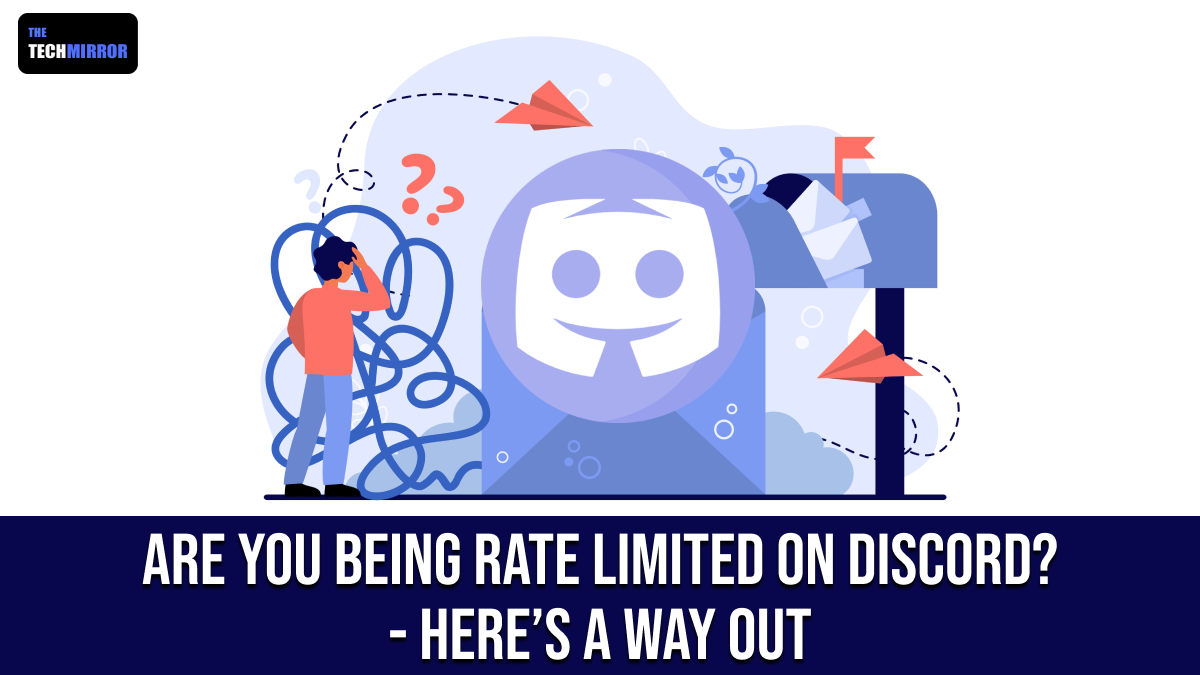 If you are struck by an error message saying "You are being rate limited" and wonder what Discord rate limited means? Here's an answer for you.
This blog article will guide you to learn the basics about this error and tell you the ways by which you can fix Discord rate limited. So with no further delay, let's dive into the topic to explore more…  
About Discord rate limited issue
Discord is a well-liked VoIP, instant messaging and digital distribution platform that comes many interesting and engaging features for users to communicate and share media files. As per the security concern users are required to undergo Discord server verification process. However, while performing it users often encounter with "You are being rate limited" error message. The error message occurs for the reason that you have tried an action for an excessive number of times on Discord. As a result you will not be able to add a phone number and be disabled from completing Discord text verification.
The "You are being rate limited" error is meant to stop users from overloading the Discord server and prevent them from abusing the Discord server. At the same time it also put off hackers from attempting a security change in your account.
Let's have a more proper understanding on what does it mean to be rate limited on Discord and what are the ways to get it fixed in the next sections of the article here under.
What does rate limited on Discord means?
When you get a Discord rate limited message on the platform it simply means that you are temporarily blocked from performing certain action on Discord. Say for instance, if you have entered a wrong verification code over and over again, you will be blocked from doing so.
In other words, when users try to guess the verification code the rate limited error prevents them from doing so by limiting the number of attempts.
Sometimes the error can also happen due to use of an auto-clicker or when you are spamming emojis on Discord.
For whatever reason it be, if you are getting Discord rate limited error message you can easily fix the issue by using methods mentioned below.
How to Fix "You are being rate limited" on Discord
If you get to see "You are being rate limited" error message on Discord, there are some feasible ways to fix it.
Although the Discord rate limited error is provisional, and get lifted automatically sooner or later, but still if you are looking for ways to get rid of it before the stipulated time it can be done by using a VPN, using an incognito browser or simply waiting it out.
Let's discuss these methods in detail.
Method #1: Use a VPN
One obvious way to fix the issue is to use a VPN. It will mask your IP address and thereby by masking your IP address Discord will not be able to give the error message any further.
Since a VPN masks your IP address that way Discord won't identify that you are rate limited and thus you can get rid of this problem.
There are several VPN providers available for free, you can opt for any of the trustworthy service provider and use it accordingly.
Here's an example (of ProtonVPN ) for you as to how you can use VPN to resolve this issue.
First of all, navigate to the official website using URL – https://protonvpn.com/.
After landing on the website, click on "Get ProtonVPN free" to install it.
Thereafter, create an account by providing necessary details such as username, password, email address.
Now, click on "Quick Connect" located on the left sidebar and get connected to this free VPN.
Once you have connected to VPN, launch your Discord and check if the "You are being rate limited" error is fixed or not. In it doesn't, try the second method provided below.
Method #2: Go Incognito
The next method to resolve the issue is to use an incognito browser. Going incognito will prevent Discord from knowing about your browsing history, site data, cookies, and other similar information. Here's how you can fix the "You are being rate limited" error by using an incognito browser.
To start with, Go to the taskbar provide at the bottom of your screen and look for Chrome. (Note: if you don't have Chrome browser, you need to get it installed on your system at first).
Now, right-click the Chrome icon on your task bar.
Here, you will get to see two options – "New window" and "New incognito window", underneath the "Tasks" header.
Click on "New incognito window" to open Chrome in incognito mode.
Thereafter, navigate to the Discord website and click on "Open Discord in your browser" to open Discord in Incognito Chrome.
That's it. Using Discord in Incognito Chrome, will hopefully fix Discord rate limited error for you.
Method #3: Wait it out
If neither of the above method works well for you in resolving this error, you are left with the final option i.e.; to wait it out. The only option available to you for now to fix the rate limited error on Discord is to wait until the error is eventually lifted.
Usually, the Discord rate limited error is a temporary and lasts for 15 minutes. Hence, there's nothing to get panic about the error. All you have to do is just be a little patient and wait for the error to be lifted. This is considered to be the most effective way to fix rate limited on Discord.
Method #4: Contact Discord
If the luck is on your side, then the error will be lifted in a few minutes, and you will again be able to make an attempt to verify your phone. But, if that's not the case or else when you think that you are getting the rate limited error by mistake, you must approach Discord for help and contact the support team at: https://dis.gd/contact. While filling up the contact form, you must ensure to provide your email address that is linked to your Discord account.
How long rate limited lasts on Discord?
In case you are being rate limited on Discord, kindly note that the error only lasts for 15 to 30 minutes. Just to confirm, a tweet by Discord says that the error typically lasts for 15 minutes.
However, there is no specific or exact time for which the error message will last as the duration differs from user to user. In actual fact, the error might take up to an hour to be lifted.
That's it. You have now successfully learned a great deal about Discord rate limited error and various aspects associated with "You are being rate limited" on Discord.
Read Also:
Amaze Your Viewers with Animated PFP Discord: Here's An Easy Guide
Discord QR Code Login – A Great Way To Access Discord