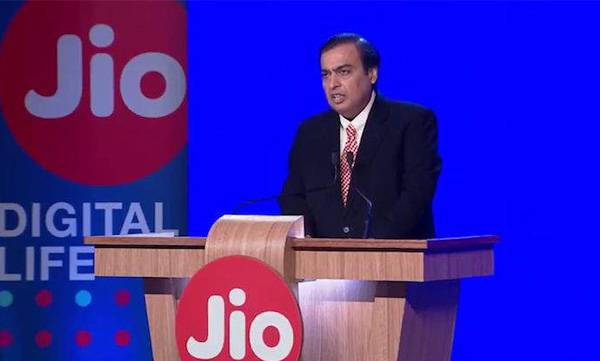 Reliance Jio has rolled out 2nd Anniversary celebration pack offer. It will allow users to avail free data. Termed as, 'Jio Celebrations Pack', the telecom operator is offering complementary 2GB per day 4G data to users.
Currently, users can avail 2GB of data per day until September 11, 2018. Hence, it is offering 10GB of data to all its users within 5 days. According to a report by TelecomTalk, the company will provide the daily data to all its users in October as well. Also, the new data pack comes with an expiry date.
In order to avail this offer following steps need to be followed :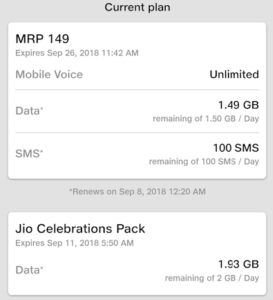 Users can go to MyJio app
Next, they have to go to My Plans section.
There, users will find an active plan section and a 'Jio Celebrations Pack' right beneath it.
Under your current plan, the Jio Celebrations Pack will be visible with 2GB per day quota.
A pack will have expiry date mentioned beforehand. This means your pack will expire on September 11, 2018, at 5:00 PM, in case it is activated on September 06, 2018 at 5:00 PM.
Once users burn out the free 2GB daily quota then they will switch to their existing plan
Reliance Jio users won't need to do anything to avail the Jio Celebrations Pack as it is complimentary for all users.
Also, users can avail 16GB of free data in September and October.
Additionally, the Jio Celebrations Pack is also available to postpaid users apart from prepaid users in India. Postpaid users can also check their account details through MyJio app.
Along with the above offers, Jio is going to provide 1GB of free data with a Cadbury Dairy Milk. Users have to click the picture of the wrapper through MyJio app to get free data wherein offer will last till September 30.
Users will get 1GB of free data when they upload Dairy Milk wrapper purchased between the range of Rs. 5 to Rs. 100. They can also scan the barcode to avail the offer. This is certainly a great opportunity for Jio users.
Read Also:
Jio announces an exciting offer: Enjoy Rs 100 discount on Rs 399 prepaid recharge