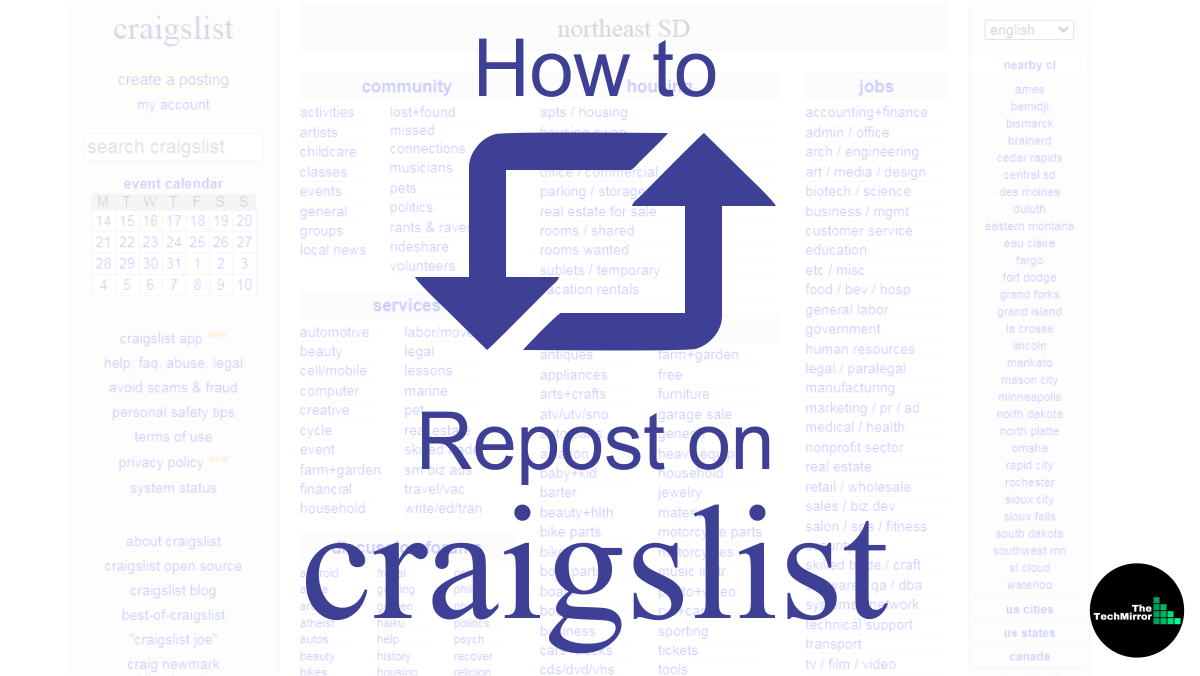 With the emergence of concepts like e-commerce and e-marketing, the world has become a global village. No matter whether you are on the buying side or selling, there are a number of sites that help trading community get an easy reach to their counterparty. Though users do consider a variety of factors while registering for such commercial sites, but it is the traffic on website that determine the reach and frequency that counts most and pay off best desired results. Craigslist as such a platform offers huge opportunity for perceptive marketers. This article will help you out with How to Repost on Craigslist in 2023?
A Short Intro of Craigslist:
Craigslist is one the leading classified advertisements website where you can share an ad post relating to jobs, housing, for sale, services and many alike heads. With increasing traffic over the years Craigslist has become one of the most leading as well as preferred classified posting website. The site is well-known for its simple user interface and a number of highly targeted sub-sections. These all makes Craigslist a hugely popular destination for qualified sellers and potential buyers.
Posting on Craigslist: How it works?
Craigslist is exceptionally easy to navigate and has quite user-friendly features. One need not mandatorily have to create an account to post on Craigslist. However, to create an account you can visit the main page of Craigslist and click on the option "your account" provided in the upper left of the page. It then asks you to enter email address you'd like to use for Craigslist, hereafter Craigslist will send you confirmation email for your account. You are then required to click the link given in that email, set a password for account and here you go! Now you'll be able to post your ad with ease.
As a registered member you can also keep track of posts time to time and edit or remove them as and when required. Though Craigslist ads are usually active for about a month you can gather information as to when your ads are expiring and need to be reposted.
Renew Craigslist ad:
As Craigslist's ads are normally arranged by recent manner, older ads moved down the list whenever a new ad is posted. For the purpose of getting your ad back upfront the list, you must renew your ad. Craigslist allows its users to meet their business objective with its easy ad post services, moreover the ads can be reposted multiple times as par requisite by simply complying a few definite rules as given below:
Advertisement must be posted in an appropriate category, and only in one city page at a time.
The frequently must not be less than every 48 hours of your last post.
There is an easy possibility of reposting the Craigslist ad, and one must better know how to do that in-order to maximize the gains pertaining this handy feature.
Necessity: Why Repost on Craigslist?
People are using numerous methods to come across goods and services that can serve their needs. Craigslist as a means allow sellers to seek attention of the buyers by posting striking ads. However, after some time, the post might not be able to deliver expected results and this is where reposting and renewing of ad help you out. By simply reposting or renewing ad, one can make it appear on the top of the page, allowing easy and edge for you to get the dedicated buyers.
Mode: How to make it happen?
If the post was submitted through Craigslist and your ad is expired, it can easily be reposted and/or renewed. This task can be accomplished via Craigslist account and/or through e-mail (as long as you still have the email Craigslist sent when you originally posted it). The process flow for either of these methods is undermentioned:
Process Flow: What to do?
Using Craigslist Account: The method is meant only for the registered users of Craigslist having the Craigslist account. They just need to perform underlying step to repost ad:
1. Log on to the official Craigslist website and click on my account option.
As soon as you login to your account, a page will be displayed where in all your postings appear upfront.
2. Make a selection about the ad you are willing to repost and then click on the repost option.
3. Once you have selected the post the same can be edited for changes (if any). Apply changes and click continue which will get it saved to the draft.
4. Finally you can now press on publish button to repost the ad.
Repost on Craigslist Through Email:
The method equally holds good for registered users as well as the one who aren't. As Craigslist sends a confirmation email whenever an ad is posted on their site, the users can use the same email to repost the deleted/expired Craigslist ad. The necessary steps to undertake are as follows:
1. Log in to your email account for the confirmation email received on initial posting of the ad.
2. Click the link provided in the mail to delete or edit your posting.
3. Now click on Repost this Posting option as provided on the page. Review the post and ensure to make necessary changes before final posting and then click the Continue option.
4. Click publish to successfully repost the ad as a new fresh ad.
Craigslist is a remarkable platform to advertise your products & services online. It gives you a perfect place to improve presence for your product and services. If you put the basics correct and intact while making ad posting, renew and repost of ads, you can be able to get-up-and-go for good amount of revenue and boost up your business.
FAQs
How often can you renew a craigslist ad?
One can renew an active post after 48 hours since it was initially posted, or if 48 hours have elapsed since it was last renewed. However, renewing a post will not affect its lifespan as each post is available for 30 days and automatically lose the ability to be renewed on expiry of these 30 days from the date it was originally posted.